Research article

Open Access

Open Peer Review
This article has Open Peer Review reports available.
Urinary metabolic profiles in early pregnancy are associated with preterm birth and fetal growth restriction in the Rhea mother–child cohort study
Received: 19 March 2014
Accepted: 21 May 2014
Published: 11 July 2014
Abstract
Background
Preterm birth (PB) and fetal growth restriction (FGR) convey the highest risk of perinatal mortality and morbidity, as well as increasing the chance of developing chronic disease in later life. Identifying early in pregnancy the unfavourable maternal conditions that can predict poor birth outcomes could help their prevention and management. Here we used an exploratory metabolic profiling approach (metabolomics) to investigate the association between birth outcomes and metabolites in maternal urine collected early in pregnancy as part of the prospective mother–child cohort Rhea study. Metabolomic techniques can simultaneously capture information about genotype and its interaction with the accumulated exposures experienced by an individual from their diet, environment, physical activity or disease (the exposome). As metabolic syndrome has previously been shown to be associated with PB in this cohort, we sought to gain further insight into PB-linked metabolic phenotypes and to define new predictive biomarkers.
Methods
Our study was a case–control study nested within the Rhea cohort. Major metabolites (n = 34) in maternal urine samples collected at the end of the first trimester (n = 438) were measured using proton nuclear magnetic resonance spectroscopy. In addition to PB, we used FGR in weight and small for gestational age as study endpoints.
Results
We observed significant associations between FGR and decreased urinary acetate (interquartile odds ratio (IOR) = 0.18 CI 0.04 to 0.60), formate (IOR = 0.24 CI 0.07 to 0.71), tyrosine (IOR = 0.27 CI 0.08 to 0.81) and trimethylamine (IOR = 0.14 CI 0.04 to 0.40) adjusting for maternal education, maternal age, parity, and smoking during pregnancy. These metabolites were inversely correlated with blood insulin. Women with clinically induced PB (IPB) had a significant increase in a glycoprotein N-acetyl resonance (IOR = 5.84 CI 1.44 to 39.50). This resonance was positively correlated with body mass index, and stratified analysis confirmed that N-acetyl glycoprotein and IPB were significantly associated in overweight and obese women only. Spontaneous PB cases were associated with elevated urinary lysine (IOR = 2.79 CI 1.20 to 6.98) and lower formate levels (IOR = 0.42 CI 0.19 to 0.94).
Conclusions
Urinary metabolites measured at the end of the first trimester are associated with increased risk of negative birth outcomes, and provide novel information about the possible mechanisms leading to adverse pregnancies in the Rhea cohort. This study emphasizes the potential of metabolic profiling of urine as a means to identify novel non-invasive biomarkers of PB and FGR risk.
Keywords
Fetal growth restriction (FGR)
Intrauterine growth restriction (IUGR)
Small for gestational age (SGA)
Preterm birth (PB)
NMR
Metabonomics
Metabolomics
In utero environment
Exposome
Background
Fetal growth restriction (FGR) and preterm birth (PB) are the main predictors of perinatal morbidity and mortality [1, 2]. These birth outcomes are associated with growth failure and accelerated weight gain during childhood. As a consequence, adverse child health and predisposition to metabolic and cardiovascular disorders can appear later in life [3, 4]. Over the past 10 years, PB has increased by 19.4% in developed regions with the USA, accounting for 42% of these preterm births in 2010 [5]. PB can either be medically induced on the basis of maternal or fetal indications, or spontaneously induced. Spontaneous PB (SPB) occurs at different prevalences in different ethnic groups and is believed to be associated with intrauterine infection (25 to 40% of cases), uterine overdistension due to multiple gestations, PB history, or shortened cervix [6]. Medically induced PB (IPB), which depends upon the decision of the clinician, often reflect underlying conditions involved with obesity such as pregnancy-induced hypertension or pre-gestational diabetes. FGR, which represents pathological inhibition of fetal growth and failure of the fetus to attain its growth potential, can be due to fetal genetic abnormalities or congenital infections (for example, toxoplasmosis, malaria, rubella). However, the vast majority of FGR cases are the result of extrinsic factors comprising maternal and placental conditions, such as placental ischemia and uteroplacental deficiency [7]. In the developed world, FGR is prevalent in women with hypertensive disorders, exposure to toxins (in particular cigarette smoke) and poor nutritional status [8–10].
A recent report evocated a sharp increase in late PB in Greece for the past 20 years, in a similar fashion to what has been noted in other middle or high income countries, potentially associated with increased maternal age and a change in obstetric interventions [11]. Other factors were reported in several studies with associations between pre-pregnancy metabolic disease, such as obesity [12–14], chronic hypertension [15, 16], dyslipidaemia and inflammation in early pregnancy [17] and high risk of PB. To better understand the underlying mechanisms that give rise to PB and FGR, the present study used data from the Rhea cohort, a large population-based mother–child cohort initiated in Crete in 2007 [18]. In this cohort, women with metabolic syndrome early in pregnancy were at high risk for PB (relative risk (RR) = 2.93, 95% CI 1.53 to 5.58), with the highest risk observed for IPB (RR = 5.13, 95% CI 1.97 to 13.38). Because routine prenatal care fails to identify a large proportion of women at risk, a better understanding of birth outcomes is crucial to improve their prediction and prevention. The application of metabolic profiling (metabolomics/metabonomics) to pregnancy research has emerged mainly as a non-targeted approach to explore potential biomarkers of reproductive outcomes and identify underlying biological mechanisms [19–21]. It has been suggested that the use of molecular biomarkers in combination with fetal monitoring and other maternal characteristics may be of clinical benefit [22, 23]. To achieve this, new, large, prospective cohort studies are needed in which biospecimen characterisation is coupled with detailed analysis of maternal physiology, lifestyle and medical history. Although other studies using metabolomics to investigate PB and FGR risk factors have been reported, to our knowledge this current study represents the largest human investigation (n = 438) to date in which urinary metabolomics has been used to identify metabolite predictors early in pregnancy (11-13 weeks).
Results
Descriptive statistics of the study population
Our metabolomics study was designed as a case–control study nested within the Rhea cohort. Table
1
shows the demographic characteristics within each case group, the control group and their comparison. Mothers of cases and controls tended to be of similar age (median 30 and 31 years, respectively), and (with the exception of SGA) possessed no significant differences in parity or in proportion of smokers. However, less educated women were more likely to develop pregnancy outcomes such as PB (32.7%) and FGR (27.8%) compared with controls (13.5%). The observations with respect to BMI and maternal education were consistent with associations reported in the wider cohort [
18
]. Extreme maternal BMI before pregnancy (either underweight or obese) occurred more in PB cases. In particular, more obese women had IPB (24% versus 11% in controls). Maternal BMI was not associated with FGR because maternal height and weight were accounted for in the assessment of FGR.
Table 1
Characteristics of the study population with respect to pregnancy outcomes
| | | | SPB (n = 88) | IPB (n = 26) | FGR (n = 36) | SGA (n = 19) | Control (n = 275) |
| --- | --- | --- | --- | --- | --- | --- | --- |
| Categorical variables | Maternal education | Low | 31 (35.6%)*** | 6 (23.1%) | 10 (27.8%)* | 4 (21.1%) | 37 (13.5%) |
| | | Medium | 37 (42.5%) | 11 (42.3%) | 10 (27.8%) | 7 (36.8%) | 139 (50.5%) |
| | | High | 19 (21.8%) | 9 (34.6%) | 16 (44.4%) | 8 (42.1%) | 99 (36.0%) |
| | Greek origin | | 82 (93.2%) | 26 (100.0%) | 35 (97.2%) | 19 (100.0%) | 258 (94.2%) |
| | Multiparity | | 58 (65.9%) | 19 (73.1%) | 20 (55.6%) | 12 (63.2%) | 187 (68.0%) |
| | Smoking during pregnancy | | 19 (22.9%) | 6 (24.0%) | 10 (27.8%) | 8 (42.1%)* | 55 (20.4%) |
| | Pre-pregnancy BMI | Underweight | 6 (7.2%)*** | 1 (4.0%) | 1 (2.8%)* | 1 (5.3%) | 6 (2.2%) |
| | | Normal | 49 (59.0%) | 10 (40.0%) | 27 (75.0%) | 15 (78.9%) | 181 (66.8%) |
| | | Overweight | 16 (19.3%) | 8 (32.0%) | 4 (11.1%) | 2 (10.5%) | 54 (19.9%) |
| | | Obese | 12 (14.5%) | 6 (24.0%) | 4 (11.1%) | 1 (5.3%) | 30 (11.1%) |
| | FGR | | 3 (4.0%) | 3 (14.3%) | 36 (100.0%)*** | 17 (94.4%)*** | 0 (0.0%) |
| Continuous variables | Maternal age, years | | 29.0 (26.0 to 33.0) | 31.0 (27.2 to 36.0) | 30.0 (27.0 to 33.2) | 30.0 (28.0 to 33.0) | 31.0 (27.0 to 34.5) |
| | Gestational age, weeks | | 35.5 (35.0 to 36.0)*** | 36.0 (35.5 to 36.0)*** | 39.0 (37.5 to 40.0) | 38.0 (38.0 to 40.0) | 39.0 (38.0 to 39.0) |
| | Birth weight, g | | 2715 (2430 to 2980)*** | 2800 (2570 to 2890)*** | 2610 (2482 to 2802)*** | 2550 (2182 to 2615)*** | 3250 (3010 to 3550) |
| | Cholesterol (n = 227) | | 215.0 (189.5 to 237.0) | 222.0 (212.8 to 233.0)* | 205.0 (163.0 to 225.0) | 225.0 (198.0 to 234.0) | 202.0 (178.5 to 231.0) |
| | Triglycerides (n = 227) | | 112.0 (86.5 to 134.5) | 149.0 (104.0 to 159.2) | 99.0 (89.0 to 119.0) | 95.0 (89.0 to 131.0) | 111.0 (85.5 to 138.0) |
| | Insulin (n = 369) | | 6.3 (2.3 to 14.8) | 10.6 (5.0 to 17.5)* | 8.3 (3.2 to 26.6) | 5.1 (2.7 to 37.9) | 5.5 (2.0 to 15.9) |
| | LDL-C (n = 227) | | 128.0 (101.5 to 138.5) | 130.0 (121.2 to 135.8) | 116.0 (90.0 to 142.0) | 142.0 (112.0 to 149.0) | 114.0 (98.5 to 142.0) |
| | HDL-C (n = 227) | | 61.0 (52.0 to 71.0) | 70.5 (59.8 to 79.2) | 59.0 (49.0 to 69.0) | 63.0 (49.0 to 67.0) | 60.0 (49.0 to 68.5) |
| | Systolic BP (n = 338) | | 107.7 (101.0 to 115.7) | 110.7 (105.7 to 117.3) | 105.0 (96.0 to 112.1) | 99.7 (94.2 to 110.2) | 106.3 (100.3 to 112.0) |
| | Diastolic BP (n = 338) | | 69.7 (64.3 to 76.0) | 74.5 (69.6 to 79.3) | 69.3 (61.3 to 77.0) | 65.2 (58.2 to 77.3) | 69.7 (63.7 to 76.0) |
Metabolomic analysis
The analysis of PB outcomes was conducted both on the combined clinical subtypes (PB) and separately on each subtype (SPB and IPB). Formate and an unassigned singlet resonance at 0.63 parts per million (ppm) probably derived from a steroid moiety, displayed significant (P < 0.05) median differences between PB and control cases (Mann–Whitney test, Table 2). Formate, N-methyl-2-pyridone-5-carboxamide (2-Py), glycine, TMAO, lysine and the singlet at 0.63 ppm significantly varied between SPB and control groups. The IPB group exhibited specifically higher levels of N-acetyl glycoproteins and lower levels of phenylacetylglutamine compared with controls. Using FDR analysis, we also estimated the likelihood of each difference between the groups being a false positive association (q values in Table 2); for significant metabolites in this analysis, these were observed to be up to 25% for IPB and SPB, up to 10% for SGA, and up to 7% for FGR.
Urinary metabolites characterising pregnancy outcomes and adverse metabolic status
According to a previous analysis [
18
], the presence of metabolic syndrome in early pregnancy is related to increased risk of PB and FGR within the Rhea cohort participants. Metabolic syndrome is a cluster of metabolic abnormalities related to increased risk of cardiovascular diseases and diabetes [
37
]. We hypothesised that the candidate metabolites associated with pregnancy outcomes might reflect aspects of metabolic syndrome, and that clinical parameters associated with metabolic syndrome would correlate with levels of the urinary metabolites (Figure
3
). Insulin was the parameter with the most significant correlations with urinary metabolites, showing significant negative correlations with acetate, formate and tyrosine levels (Spearman ρ = −0.22, ρ = −0.21, and ρ = −0.15 respectively,
P
 < 0.05). Increased BMI was associated with elevated levels of
N-
acetyl glycoprotein fragments in the urine (ρ = 0.14). BP was poorly correlated with urinary metabolites. These findings suggest that some of the variation in the urinary metabolites associated withbirth outcomes could be related to underlying maternal metabolic disease such as obesity and insulin resistance. Stratified analysis by maternal BMI as the two categories of 'underweight and normal' (<25) versus 'overweight and obese' (>25), confirmed that
N-
acetyl glycoprotein and IPB are significantly associated in overweight and obese women only (
P
 = 0.008 in the overweight and obese group versus
P
 = 0.40 in the underweight and normal group). Figure
4
illustrates that
N-
acetyl glycoprotein levels were particularly high in IPB women with high BMI before pregnancy. A stratified analysis was also performed for insulin levels (low levels ≤6 mU/mL versus high levels >6 mU/mL). Tyrosine, acetate and formate associations with FGR were not significant in the high insulin group.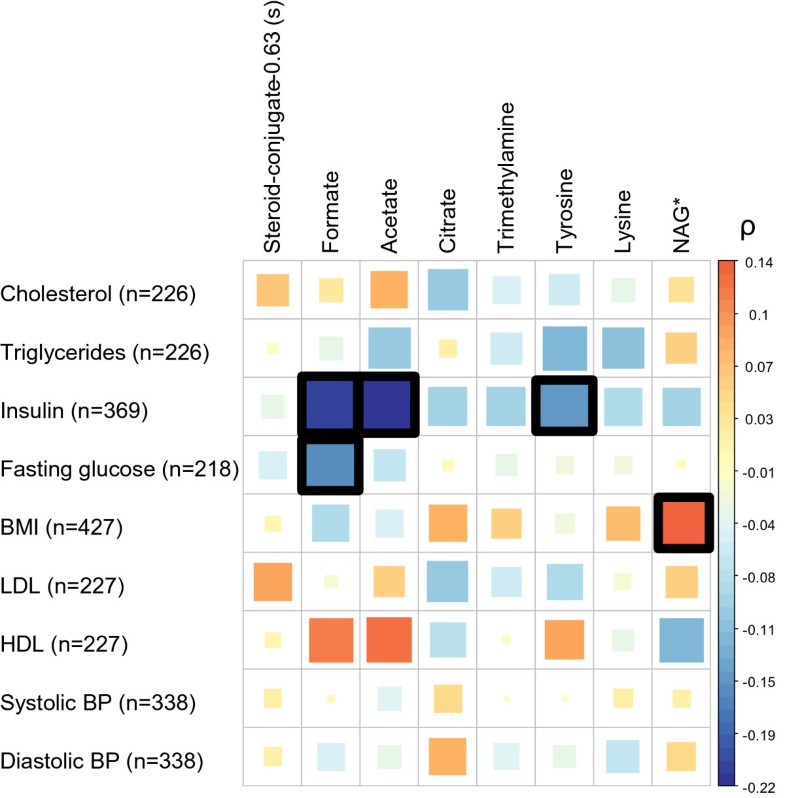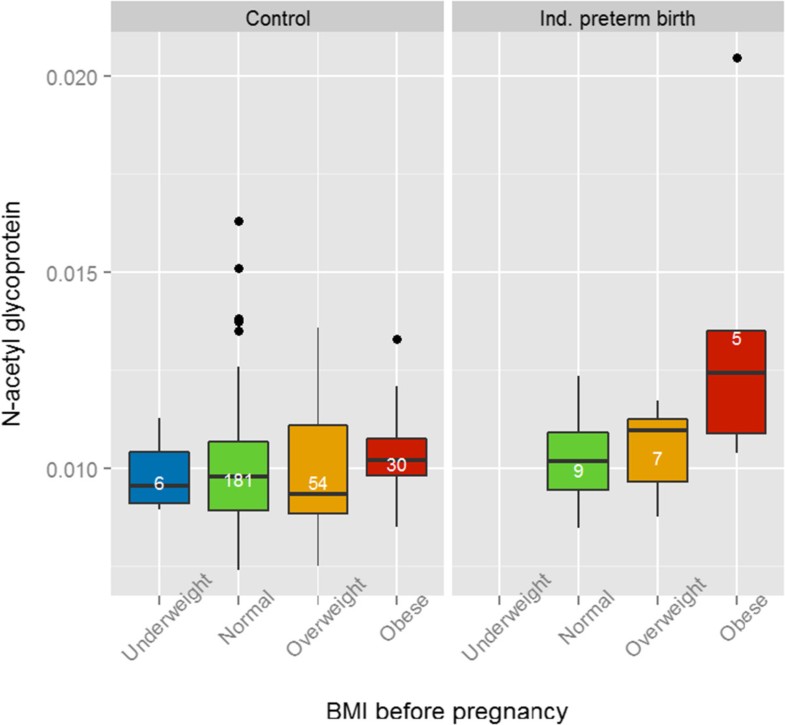 Discussion
Although over 90% of fetal growth occurs in the second half of gestation, maternal metabolism in the first trimester undergoes extensive changes in lipid storage, nitrogen species excretion and other metabolic pathways in order to facilitate fetal development [38]. Thus, early maternal metabolic abnormalities could indicate, or even cause, abnormal implantation, fetal growth impairment or other adverse birth outcomes, before clinical symptoms appear. Using a 1H NMR-based metabolic profiling approach, we found early (end of first trimester) differences in urinary metabolic phenotypes in the pregnant women in the Rhea cohort study in whom PB and FGR subsequently occurred. These potentially predictive metabolic signatures of birth outcomes were correlated with aspects of metabolic syndrome. Furthermore, we observed a distinction between the metabolic signature of 'medically indicated'/induced and 'non-indicated'/spontaneous PB, suggesting a range of aetiological metabolic factors contributing to PB.
Despite the relative small number of induced preterm pregnancies (n = 28), a significant increase in N-acetyl glycoprotein fragments was observed in these women. The N-acetyl proton resonances arising at δ 2.04 ppm are frequently associated with inflammation-induced acute phase proteins such as alpha-1 glycoprotein when reported in serum [39], but the urinary source is less certain. One candidate is uromodulin, also called the Tamm-Horsfall glycoprotein, which is the most abundant protein found in urine [40]. The N-acetyl glycoprotein resonance was positively correlated in this study with BMI. In the Rhea cohort, pregnant women with metabolic syndrome (and in particular the obesity component) had a high risk of encountering IPB (RR = 5.13, 95% Cl 1.97 to 13.38). The mechanisms relating N-acetyl glycoproteins to obesity and IPB, remain unclear; however, it is widely reported that high levels of adipose tissue can lead to systemic inflammation through release of cytokines such as interleukin-6, which could lead to an acute phase response [41]. Higher N-acetyl glycoprotein levels in NMR spectra of women with PB were also found in a study profiling maternal serum and cord blood at birth [42]. Spontaneous PB was specifically associated with higher urinary lysine, an essential amino acid that is limiting for growth, and is elevated in the plasma of premature infants [43]. The steroid conjugate at 0.63 ppm, possibly arising from a soluble metabolite of pregnanediol, was also increased in SPB cases by 19%. This signal has also been identified in previous studies that detected it in the urine of second trimester pregnant women with subsequent fetal malformation and trisomy 21 [20, 44]. In our study, this steroid was also positively correlated with cholesterol and LDL-C, known sources for progesterone synthesis by the placenta.
With the exception of formate, a different metabolic profile (decreased urinary acetate, citrate, formate, glycine, tyrosine and trimethylamine) was associated specifically with poorer fetal growth. FGR remains difficult to assign owing to healthy biological variability in human size, hence in this study we used a definition based on customised birth-weight percentiles designed to better differentiate between infants who are small because of restricted growth and infants who are small but have reached their likely individual growth potential (see Methods) [18, 26]. A similar pattern of associations was observed for this parameter as for the more conventional classification of SGA; however, FGR resulted in more statistically significant associations because of larger sample size. The FGR metabolite profile was broadly inversely associated with plasma insulin and positively correlated with HDL-C levels. Of these metabolites, formate, tyrosine and trimethylamine were all found to be significantly positively correlated with each other, suggesting a common source of variation (ρ(formate-tyrosine) = 0.38, ρ(formate-trimethylamine) = 0.21 and ρ(tyrosine-trimethylamine) = 0.26). Elevations of several of these metabolites in blood have been previously associated with risk of insulin resistance [45, 46]; however, the biological significance of low urinary levels of these molecules is less clear. Low urinary formate has been previously associated with increased hypertension in a large multinational study [47] and interestingly, hypertension in the first trimester of pregnancy was the most significant risk factor for PB and FGR in the Rhea cohort [18]. However, the association between formate and BP observed was not statistically significant in our study cohort. Several of the metabolites in the FGR signature (acetate, formate, tyrosine, trimethylamine) are known to be consumed or produced in significant quantities by gut microbes [48–51], hence the association might reflect a specific gut microbial distribution or a dietary pattern that selects for such a distribution. A recent study reported dramatic change in gut microbial composition throughout pregnancy causing increased insulin resistance and greater adiposity; although normally associated with disease this may be of benefit during pregnancy [52]. This indicates that the composition of gut microbiota in pregnant women could influence their metabolic homeostasis and their pregnancy outcomes. Daily intake of 5 mg of supplemental folic acid in the whole Rhea population (n = 1,279) was associated with a 66% decrease in the risk of delivering an SGA neonate (RR = 0.34; 95% CI 0.16 to 0.73) [53]. However, formate levels were not correlated with supplementary folate intake in our study population (ρ = −0.05 and P = 0.23).
Despite our study not being directly comparable with previous metabolomics studies investigating birth outcomes, owing to differences in the analytical platform used and the biofluids studied (often cord blood serum or amniotic fluid), and because our samples were taken at the end of the first trimester (whereas most previous metabolomics studies have examined late pregnancy samples), some similarities with other investigations were observed. In addition to the instances cited above, a previous study in women with subsequent FGR also reported decreased levels of urinary trimethylamine, tyrosine and glycine [44]. However, many more metabolomic studies have focused on events during pregnancy such as pre-eclampsia rather than birth outcomes; in our work, we excluded women with pre-eclampsia, making comparison with these inappropriate.
Our study has a number of other important limitations. Firstly, our study was not specifically designed to examine FGR, and only a limited number of these cases were available within our dataset. Secondly, although our study is unique in defining associations between metabolism during early pregnancy and birth outcomes, it is not possible at this stage to distinguish between pregnancy-induced effects and underlying metabolic risk factors. However, this does not negate the potential value of urinary metabolites in general as biomarkers of risk of negative birth outcomes, and our exploratory study has generated several hypotheses for future investigation. It is also possible that our observations reflect aetiological factors specific to the Rhea cohort, which experience an abnormally high rate of PB, and are not generalisable to the broader European population. Specimens from an independent cohort would be needed to validate our findings, and several efforts to complete comparable studies in large birth cohorts are currently underway, such as the Human Early-Life Exposome (HELIX) project [54]. This consortium aims to implement novel exposure assessment and biomarker methods (including metabolomics) to characterise the total exposure from conception to multiple environmental factors (the exposome [55–57]) and associate these with child health outcomes. Applied as an untargeted approach, metabolomics captures information about endogenous metabolism and exogenous exposures simultaneously, making it in principle an ideal tool for exploring the exposome.
Conclusion
Urinary acetate, tyrosine, formate, trimethylamine, lysine and glycoprotein measured at the end of the first trimester are associated with increased risk of negative birth outcomes in the Rhea cohort. We believe our study to be a confirmation of the potential of metabolomics to reveal novel links between metabolite exposure and birth outcomes, and evidence in support of the inclusion of such approaches in studies that attempt to link the exposome to neonatal health.
Abbreviations
2-Py:

N-methyl-2-pyridone-5-carboxamide
FGR:

Fetal weight growth restricted
IPB:

Induced preterm birth
NMR:

Nuclear magnetic resonance
PB:

Preterm birth
SPB:

Spontaneous preterm birth. BMI body mass index
BP:

blood pressure
HDL-C:

high density lipoprotein cholesterol
LDL-C:

low density lipoprotein cholesterol
SGA:

small for gestational age
PB:

spontaneous preterm birth.
Declarations
Acknowledgements
The authors acknowledge support from an MRC-Integrative Toxicology Training Partnership (ITTP) PhD studentship (recipient LM), an MRC-ITTP fellowship (recipient MC), the CEFIC Long Range Initiative Award for Innovative Science 2009 (recipient HCK), the EU-FP7 Envirogenomarkers consortium (226756), EU-FP7 HELIX project consortium (308333) and the MRC-PHE Centre for Environment and Health.
Authors' Affiliations
(1)
Computational and Systems Medicine, Department of Surgery and Cancer, Faculty of Medicine, Imperial College London, London, UK
(2)
Department of Social Medicine, Faculty of Medicine, University of Crete, Heraklion, Greece
(3)
Centre for Research in Environmental Epidemiology (CREAL), Barcelona, Spain
(4)
MRC-PHE Centre for Environment and Health, Imperial College London, London, UK
(5)
Department of Epidemiology and Biostatistics, School of Public Health, Faculty of Medicine, Imperial College London, London, UK
(6)
National School of Public Health, Athens, Greece
(7)
IMIM, Hospital del Mar Research Institute, Barcelona, Spain
(8)
CIBER Epidemiologia y Salud Pública (CIBERESP), Barcelona, Spain
Copyright
© Maitre et al.; licensee BioMed Central Ltd. 2014
This article is published under license to BioMed Central Ltd. This is an Open Access article distributed under the terms of the Creative Commons Attribution License (http://creativecommons.org/licenses/by/4.0), which permits unrestricted use, distribution, and reproduction in any medium, provided the original work is properly credited. The Creative Commons Public Domain Dedication waiver (http://creativecommons.org/publicdomain/zero/1.0/) applies to the data made available in this article, unless otherwise stated.