Research article

Open Access

Open Peer Review
This article has Open Peer Review reports available.
Communicating population health statistics through graphs: a randomised controlled trial of graph design interventions
Received: 08 August 2006
Accepted: 20 December 2006
Published: 20 December 2006
Abstract
Background
Australian epidemiologists have recognised that lay readers have difficulty understanding statistical graphs in reports on population health. This study aimed to provide evidence for graph design improvements that increase comprehension by non-experts.
Methods
This was a double-blind, randomised, controlled trial of graph-design interventions, conducted as a postal survey. Control and intervention participants were randomly selected from telephone directories of health system employees. Eligible participants were on duty at the listed location during the study period. Controls received a booklet of 12 graphs from original publications, and intervention participants received a booklet of the same graphs with design modifications. A questionnaire with 39 interpretation tasks was included with the booklet. Interventions were assessed using the ratio of the prevalence of correct responses given by the intervention group to those given by the control group for each task.
Results
The response rate from 543 eligible participants (261 intervention and 282 control) was 67%. The prevalence of correct answers in the control group ranged from 13% for a task requiring knowledge of an acronym to 97% for a task identifying the largest category in a pie chart. Interventions producing the greatest improvement in comprehension were: changing a pie chart to a bar graph (3.6-fold increase in correct point reading), changing the y axis of a graph so that the upward direction represented an increase (2.9-fold increase in correct judgement of trend direction), a footnote to explain an acronym (2.5-fold increase in knowledge of the acronym), and matching the y axis range of two adjacent graphs (two-fold increase in correct comparison of the relative difference in prevalence between two population subgroups).
Conclusion
Profound population health messages can be lost through use of overly technical language and unfamiliar statistical measures. In our study, most participants did not understand age standardisation and confidence intervals. Inventive approaches are required to address this problem.
Keywords
Comprehension Rate
Intervention Participant
Adjacent Graph
Regional Health Authority
Population Health Statistic
Background
Local, regional, national and global public health authorities publish an ever-increasing number of reports that statistically describe the health of the populations they serve. Graphs form a large component of such reports, because they provide a visual means to summarise relationships between variables that influence health.
The relationship between the design of graphs and the ability of people to comprehend them has been extensively studied in the fields of cognitive psychology, education, ergonomics and statistics. However, little information is available on comprehension of population health statistics.
In 1999, the need to improve methods of communicating epidemiological and statistical concepts to lay audiences was recognised and incorporated into Australia's National Public Health Information Development Plan [1]. This led to a project aimed at assessing the available evidence on graph design and reader comprehension (see Additional file 1) and a study that could provide practical recommendations specific to graphs of population health statistics (see Additional file 2).
This report describes the results of a component of the project aimed at testing specific interventions that were identified as being particularly relevant to the types of graphs appearing in Australian population health publications, but for which strong evidence could not be found in the literature. A secondary aim was to assess whether comprehension of the data and the success of interventions varied by educational attainment.
Methods
Study design
This was a double-blind, randomised, controlled trial, with data collected through a self-completed questionnaire. Participants were randomly assigned to receive either a "control" or an "intervention" booklet of graphs. Both groups received an identical questionnaire that explored participants' understanding of the meaning of the graphs.
Study participants were blinded to their control or intervention status. Study personnel and researchers were blinded to the status of respondents until after data analysis occurred. Each respondent group was assigned an arbitrary group identifier that did not reveal their status, even during analysis of the results. Data entry personnel were blinded to the respondent status, as any graph booklets returned with questionnaires were discarded prior to data entry. The status of each group was revealed only after analysis was complete.
Control and intervention graphs and questionnaire
The "control" booklet contained 12 graphs reproduced from an original Australian population health publication. They covered a range of different graph styles and numerical measures, including population size, disease incidence rates, disease prevalence, incidence rate ratios, and risk of developing disease. Statistical and epidemiological concepts, such as age standardisation and confidence intervals, were included in some graphs.
Graphs for the intervention booklet presented the same statistical information as those in the control booklet, but were subject to one or more changes. The changes were chosen in an effort to improve comprehension of the statistical information depicted in the graph. To limit the number of graphs and thus respondent workload, more than one change was made to some graphs. In some cases, changes were collectively intended to improve understanding, while in others, they were chosen to target specific aspects of comprehension within that graph. The control and intervention version of each graph is shown in Figures
1
,
2
,
3
,
4
,
5
,
6
,
7
,
8
,
9
,
10
,
11
,
12
.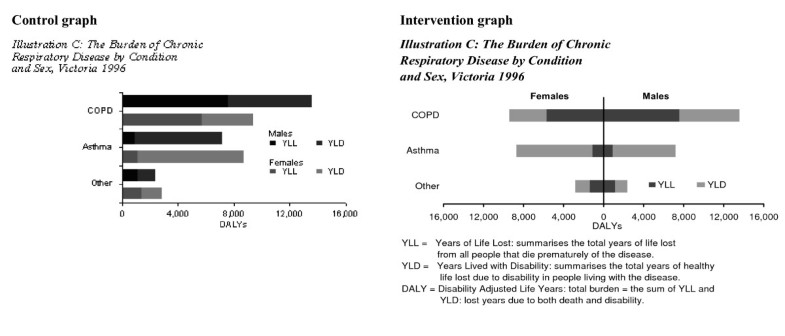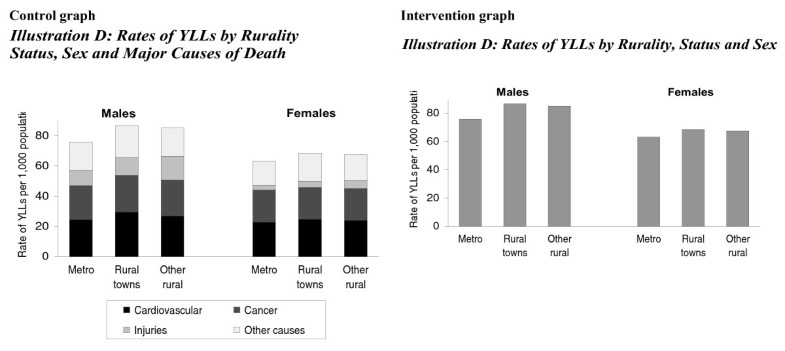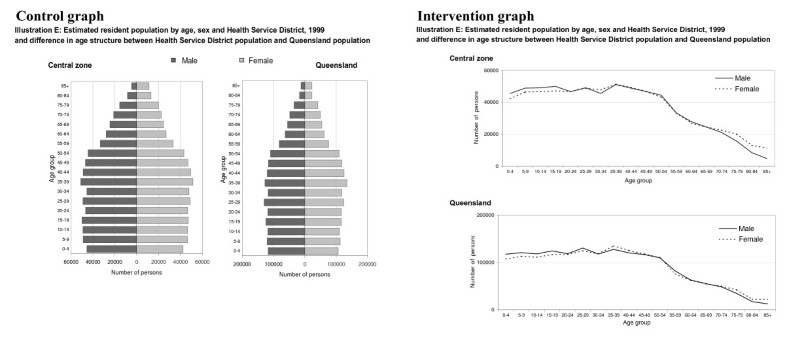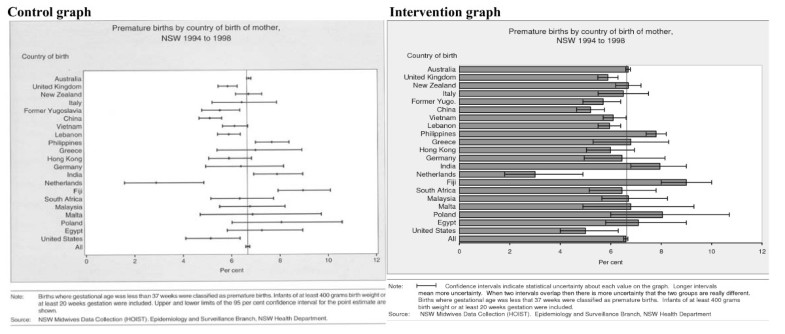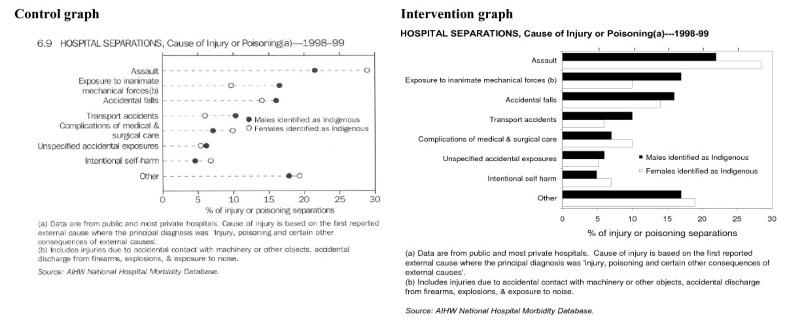 The questionnaire contained several questions relating to each graph, 39 questions in all. Each question was framed in relation to the population health interpretation of the information presented in the graph rather than to extraction of information in isolation from its population health meaning. Questions were also designed to specifically assess the effect of changes made to the graphs for the intervention booklet. Prior to finalising the questionnaire, it was piloted with a convenience sample of 20 people. All but one returned the pilot survey. Pilot respondents were asked to comment on difficulties they had, and consequent changes were made.
The questionnaire also collected demographic details: education level, preferred language, age group, and sex. Respondents were also asked their work title, how frequently they used graphs, and to rate their visual ability to read the graphs presented.
The control and intervention graph booklets and the questionnaire are available as appendices to the project report (see Additional file 2).
Study sample
The study population included employees of the public sector health system of the State of New South Wales (NSW), Australia, regardless of the nature of their work. The state health authorities administer the delivery of, and policies for, public hospital and other public health services for the population of NSW. The workforce therefore includes people with a broad range of job types, not just in medical and health fields. Personnel conduct a broad range of activities, including clerical, financial, policy, scientific, information technology, engineering, maintenance, cleaning, and facilities management. Regional public hospital and community health services are administered by regional health authorities that are in turn administered by the NSW Department of Health. The sampling frame included employees whose contact details were listed on one of five telephone directory databases for employees of the main NSW Department of Health administration (1159 employees), an urban regional health authority (9629 employees), a mixed urban/rural health authority (1840 employees), and two rural health authorities (3560 employees). At the time, there were 17 regional health authorities in NSW, of which five were urban, four were semi-rural, and eight were rural.
In total, 650 participants were randomly selected without stratification from the combined databases of 16188 employees, and these were randomly allocated into one of two groups of 325 participants each: the intervention and control groups. Each participant was posted a package containing a cover letter from the NSW Chief Health Officer inviting their participation, a questionnaire booklet, a control or intervention graph booklet, and a reply-paid envelope. Other than the letter from the Chief Health Officer, there was no incentive for participation. Up to six follow-up reminder calls were made to non-responders. These calls also allowed ineligible participants to be identified. Ineligible participants were those who no longer worked for the health service, who were unknown at the available contact address, or who were not on duty for the survey period.
Analysis
Unanswered questions were treated as incorrectly answered. The comprehension rate was defined as the prevalence of correct answers within a respondent group. We categorised the comprehension rate according to the following scale: 0% to <20%, very low; 20% to <40%, low; 40% to <60%, moderate; 60% to <80%, high; and 80–100%, very high.
The effect of the interventions on each task was assessed by calculating the ratio of the comprehension rate in the intervention and control groups, with a 95% confidence interval (CI). To assess whether comprehension varied by educational attainment, separate analyses were conducted for subgroups of respondents categorised as university-qualified or non-university-qualified. Analysis was conducted using SPSS version 10.
Discussion
To our knowledge, this is the first randomised, controlled trial assessing interventions to graph design aimed at increasing readers' ability to understand statistical information about population health. In fact, the evidence base for graph comprehension and related cognitive processes in general is largely limited to studies conducted in laboratory settings with small groups of participants, usually university students. We are aware of only one other study that randomly selected participants from a defined population, and it had a response rate of only 50% [2]. Furthermore, we found only a limited number of randomised, controlled study designs in the graph literature [2–4].
Our findings are of benefit from two perspectives. Firstly, we were able to quantify the proportion of readers who could extract some typical statistical interpretations from a sample of graphs used in Australian official population health publications. Depending on the graph and the specific interpretation sought, the proportion of readers able to interpret the graphs correctly ranged from as few as 13% to as many as 97%. Secondly, we were able to quantify the impact on comprehension levels achieved through the simple changes we applied to the graphs. This resulted in a maximum 3–4-fold increase in the proportion of readers who correctly extracted specific information from the graphs.
Conclusion
Profound population health messages can be lost by the use of overly technical language and statistical measures that are unfamiliar to a general audience. This study provides new evidence to support a range of recommendations on how to improve the design of graphs. This represents a clear opportunity to improve delivery of public health messages through graphs to a wider sector of the population. However, it is clear that, regardless of graph design, concepts such as age standardisation and confidence intervals were not understood by the majority of participants, regardless of their level of education. This is a vexed problem, because these concepts are crucial to accurate interpretation of statistical information in population health and epidemiology. There remains, therefore, an opportunity for inventive solutions to deliver the messages implied by these manipulations without increasing the difficulty of interpreting the graph.
Declarations
Acknowledgements
This project was jointly funded by the Australian Department of Health and Ageing and the Program for Population Health Infostructure of the New South Wales Department of Health. The Australian National Public Health Partnership and identified the need for this work. We thank the Australian Institute of Health and Welfare for their support of the Partnership and the project. We also thank other members of the project working group: Dr Tim Churches, Dr Paul Jelfs, and Ms Kim Lim.
Authors' Affiliations
(1)
New South Wales Department of Health, Centre for Epidemiology and Research, North Sydney, Australia
(2)
Hunter Valley Research Foundation, Maryville, Australia
Copyright
© Muscatello et al; licensee BioMed Central Ltd. 2006
This article is published under license to BioMed Central Ltd. This is an Open Access article distributed under the terms of the Creative Commons Attribution License (http://creativecommons.org/licenses/by/2.0), which permits unrestricted use, distribution, and reproduction in any medium, provided the original work is properly cited.