Can we improve outcomes in AF patients by early therapy?
Received: 26 October 2009
Accepted: 26 November 2009
Published: 26 November 2009
Abstract
Atrial fibrillation affects at least 1% of the population and causes marked society-wide morbidity and mortality. Current management of atrial fibrillation including antithrombotic therapy and management of concomitant conditions in all patients, rate control therapy in most patients, and rhythm control therapy in patients with severe atrial fibrillation-related symptoms can alleviate atrial fibrillation-related symptoms but can neither effectively prevent recurrent atrial fibrillation nor suppress atrial fibrillation-related complications. Hence, there is a need for better therapy of atrial fibrillation.
The etiology of atrial fibrillation is complex. Most of the causes of atrial fibrillation which are known at present perpetuate themselves in vicious circles, and presence of the arrhythmia by itself causes marked damage of atrial myocardium. These pathophysiological insights suggest that early diagnosis and comprehensive therapy of atrial fibrillation, including adequate therapy of all atrial fibrillation-causing conditions, rate control, and rhythm control therapy, could help to prevent progression of atrial fibrillation and reduce atrial fibrillation-related complications. Such a therapy should make use of safe and effective therapeutic modalities, some of which have become available recently or will become available in the near future. The hypothesis that early diagnosis and early, comprehensive therapy of atrial fibrillation can improve outcomes requires formal testing in controlled trials.
Keywords
Atrial FibrillationSinus RhythmCatheter AblationParoxysmal Atrial FibrillationAtrial Fibrillation Patient
Commentary
Atrial fibrillation (AF) is the most common sustained arrhythmia and affects at least 1% of the population, amounting to 5.5 to 7 million patients with AF in Europe [
1
,
2
]. AF is characterized by very rapid, irregular electrical activation of the atria (350 to 400 bpm), resulting in 1) loss of coordinated contraction and transport function in the atria and 2) irregular ventricular rate and loss of ventricular rate adaptation to increased demands (arrhythmia absoluta). In an ageing population, the prevalence and incidence of AF will increase dramatically in the next decades [
2
,
3
]. Unlike most other supraventricular tachyarrhythmias, atrial fibrillation can usually not be cured [
4
,
5
]. Rather, most patients progress from paroxysmal AF, that is, AF that alternates with periods of sinus rhythm, to sustained forms (Figure
1
), even when currently available therapeutic options are applied. This sobering finding is aggravated by the dramatic consequences that AF implies in affected individuals and for society (Table
1
).
Table 1
Consequences of AF in affected individuals.
| | |
| --- | --- |
| Death | death rates are doubled in AF patients. This effect is independent of known other cardiovascular risk factors or concomitant disease. Death rates are also increased in patients with a myocardial infarction or in heart failure patients when AF is added to their disease pattern. |
| Stroke | Approximately every 4th stroke is due to AF. The possibility of "silent", undiagnosed AF - which is common in trials using systematic ECG monitoring -, may suggest that AF is also a potential cause of "cryptogenic" stroke. |
| Quality of life | is markedly reduced in AF patients, due to their symptoms but possibly also due to an unrecognized effect of AF on social functioning, cerebral function, or other factors. It is conceivable that AF-related hospitalizations contribute to reduced quality of life in AF patients. |
| Rhythm | AF causes arrhythmia absoluta and impairs rate adaptation of heart beat to demand. Abnormal heart rate can cause symptoms ranging from palpitations to acute chest pain or cardiac decompensation, especially when ventricular rate is inadequate. |
| Left ventricular function | is impaired by AF, especially in patients with known heart failure or with a tendency to develop heart failure. Restoring sinus rhythm and maintaining effective heart rate control can prevent such AF-induced decline of heart failure. |

One of the reasons why AF is so difficult to cure is probably the complex etiology of the arrhythmia as recently outlined in two consensus conferences on AF [
6
,
7
]: AF can be caused by atrial structural damage conferred by cardiac or extracardiac disease and rapid irregular ventricular rate [
8
,
9
], a sign of
natural ageing
of the heart, and an
electrical accident
due to abnormal electrical function of the heart. Furthermore, AF perpetuates itself by altering electrical function of the atria (Figure
2
). Unfortunately, all of these mechanisms form vicious circles and are severely aggravated once AF has manifested. Usually, several of these factors have to concur before the arrhythmia develops.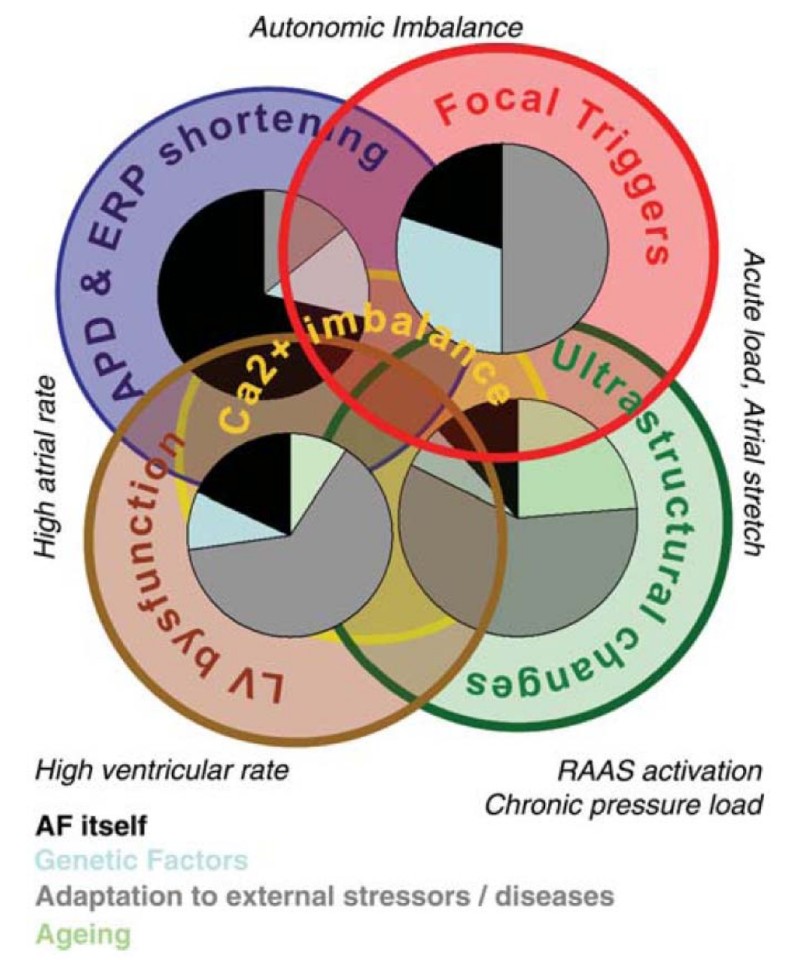 Summary
Although atrial fibrillation is clearly associated with severe consequences such as stroke, heart failure, and death, current rhythm management in AF patients does not translate into improved outcomes. Earlier initiation of rhythm control therapy, especially when embedded in a comprehensive AF management strategy, has the potential to maintain sinus rhythm more effectively, to disrupt the vicious circles that maintain AF and cause its complications, and to prevent AF-related complications before they occur. Potentially, a combination of intermittent, short-term antiarrhythmic drug therapy, antiarrhythmic drug therapy using new, potentially safer agents, and catheter ablation of AF could be components of early rhythm control therapy. Given the potential benefits and risk of such a therapy, there is a clear need to test whether early rhythm control therapy of AF can improve outcomes in AF patients.
Declarations
Acknowledgements
This work was supported by AFNET and Fondation LeDucq. The concept of early and comprehensive therapy of AF was discussed in detail during the 2nd AFNET/EHRA consensus conference organized by AFNET and EHRA [6]. The discussions during and after that conference clearly influenced the ideas expressed here.
Authors' Affiliations
(1)
Department of Cardiology and Angiology, University Hospital Münster, Germany
(2)
German Atrial Fibrillation competence NETwork (AFNET), Germany
Copyright
© Kirchhof; licensee BioMed Central Ltd. 2009
This article is published under license to BioMed Central Ltd. This is an Open Access article distributed under the terms of the Creative Commons Attribution License (http://creativecommons.org/licenses/by/2.0), which permits unrestricted use, distribution, and reproduction in any medium, provided the original work is properly cited.