Review

Open Access

Open Peer Review
This article has Open Peer Review reports available.
Advances in the field of nanooncology
Received: 19 August 2010
Accepted: 13 December 2010
Published: 13 December 2010
Abstract
Nanooncology, the application of nanobiotechnology to the management of cancer, is currently the most important chapter of nanomedicine. Nanobiotechnology has refined and extended the limits of molecular diagnosis of cancer, for example, through the use of gold nanoparticles and quantum dots. Nanobiotechnology has also improved the discovery of cancer biomarkers, one such example being the sensitive detection of multiple protein biomarkers by nanobiosensors. Magnetic nanoparticles can capture circulating tumor cells in the bloodstream followed by rapid photoacoustic detection. Nanoparticles enable targeted drug delivery in cancer that increases efficacy and decreases adverse effects through reducing the dosage of anticancer drugs administered. Nanoparticulate anticancer drugs can cross some of the biological barriers and achieve therapeutic concentrations in tumor and spare the surrounding normal tissues from toxic effects. Nanoparticle constructs facilitate the delivery of various forms of energy for noninvasive thermal destruction of surgically inaccessible malignant tumors. Nanoparticle-based optical imaging of tumors as well as contrast agents to enhance detection of tumors by magnetic resonance imaging can be combined with delivery of therapeutic agents for cancer. Monoclonal antibody nanoparticle complexes are under investigation for diagnosis as well as targeted delivery of cancer therapy. Nanoparticle-based chemotherapeutic agents are already on the market, and several are in clinical trials. Personalization of cancer therapies is based on a better understanding of the disease at the molecular level, which is facilitated by nanobiotechnology. Nanobiotechnology will facilitate the combination of diagnostics with therapeutics, which is an important feature of a personalized medicine approach to cancer.
Keywords
Paclitaxel
Gold Nanoparticles
Magnetic Nanoparticles
Circulate Tumor Cell
Polymeric Micelle
Introduction
Nanotechnology is the creation and utilization of materials, devices and systems through the control of matter on the nanometer-length scale, that is, at the level of atoms, molecules and supramolecular structures. Given the inherent nanoscale functional components of living cells, it was inevitable that nanotechnology would be applied in biotechnology settings, giving rise to the term nanobiotechnology, that is, the application of nanotechnology in the life sciences. Nanobiotechnology is already starting to show the promise of an impact on health care. Nanomedicine is defined as the application of nanobiotechnology to medicine and is based on the use of nanoscale materials and devices for diagnosis and drug delivery as well as for the development of advanced pharmaceuticals referred to as nanopharmaceuticals [1]. Nanobiotechnology is also being applied to refine surgery from microsurgery to nanosurgery. Examples include the construction of nanoscale robots, nanobots, for navigating the human body to detect as well as treat various diseases, and cell surgery using nanodevices and nanolasers. During the past few years, considerable progress has been made in the application of nanobiotechnology in cancer, that is, nanooncology, which is currently the most important chapter of nanomedicine.
Nanobiotechnology plays an important role in the discovery of biomarkers of cancer. Several drugs in development for cancer are based on nanobiotechnology, and a few of these are already approved. Nanobiotechnology-based devices are in development as aids to cancer surgery. Finally, nanobiotechnology is playing an important role in personalized therapy for cancer. The impact of nanobiotechnology on oncology is shown schematically in Figure
1
.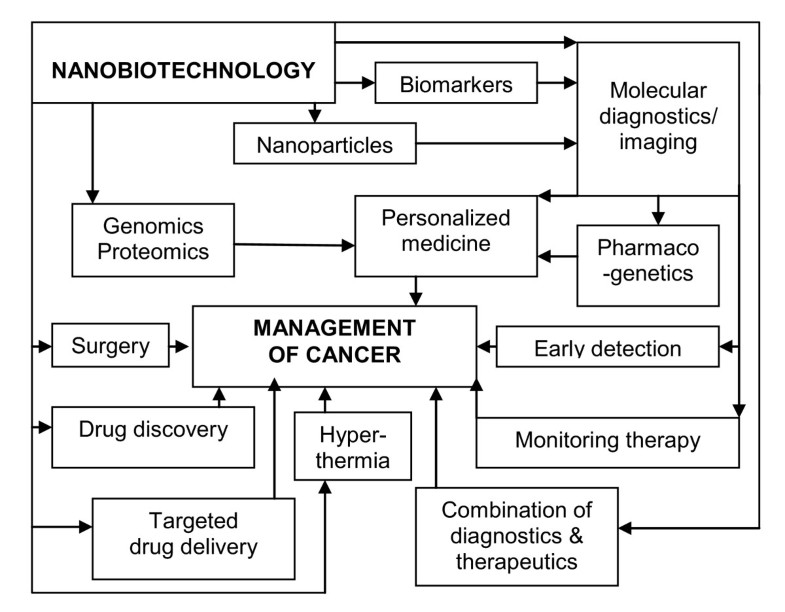 Role of nanotechnology in cancer diagnostics
Nanobiotechnologies have extended the limits of and refined molecular diagnostics [
2
]. Nanobiotechnology offers a novel set of tools for the detection of cancer and contributes to early detection of cancer as follows:
1.

It can complement existing technologies and make significant contributions to cancer detection, prevention, diagnosis and treatment.

2.

It would be extremely useful in the area of biomarker research and provide additional sensitivity in assays with relatively small sample volumes.

3.

Examples of applications of nanobiotechnology in cancer diagnostics include quantum dots (QDs) and the use of nanoparticles for tumor imaging.
Targeted drug delivery using nanobiotechnology
Concluding remarks
The rationale for using nanobiotechnology in oncology is that nanoparticles have optical, magnetic or structural properties that are not available from larger molecules or bulk solids. When linked with tumor-targeting ligands such as mAbs, peptides or small molecules, these nanoparticles can be used to target tumor antigens (biomarkers) as well as tumor vasculatures with high affinity and specificity [42]. Nanoparticles measuring 5-100 nm in diameter have sufficiently large surface areas and functional groups for conjugating to multiple diagnostic and therapeutic anticancer agents. Recent advances have led to bioaffinity nanoparticle probes for molecular and cellular imaging, targeted nanoparticle drugs for cancer therapy and integrated nanodevices for early cancer detection and screening. Nanobiotechnology has contributed significantly to the diagnosis and therapy of cancer and, by enabling a combination of these, will facilitate the development of personalized management of cancer. Nanobiotechnology has facilitated the discovery of biomarkers that can be used to diagnose and treat cancer based on the molecular profiles of individual patients. Nanoparticles enable targeted delivery of cancer therapeutics and increase efficacy as well as reduce adverse effects.
Many challenges still remain to be resolved prior to widespread use of nanobiotechnology in clinical oncology. There is some concern about the toxicity of nanoparticles, and extensive investigations are in progress to resolve this issue. There is no consensus on the real risks of nanomaterials. Risk evaluation presents challenges because of a lack of data, the complexity of nanomaterials, measurement difficulties and undeveloped hazard assessment frameworks. This topic is discussed in detail in a chapter of a special report on nanobiotechnology [
43
]. Detailed discussion is beyond the scope of this article, but some of the conclusions of this review are listed below:
1.

The risk of nanoparticles depends on their type; some are toxic, whereas others have negligible toxicity and some even have a tissue-protective effect.

2.

Measures are available to reduce the toxicity of nanoparticles.

3.

The use of biodegradable polymer nanoparticles is suitable for drug delivery as there is no significant toxicity.
Nanooncology has a promising future, and further advances are anticipated in the next 5 years. It is feasible to use molecular tools to design a miniature robotic device, a nanobot, that can be introduced in the body to locate and identify cancer cells and finally destroy them. The device would have a biosensor to identify cancer cells and a supply of anticancer substance that could be released on encountering cancer cells. A small computer could be incorporated to program and integrate the combination of diagnosis and therapy and provide the possibility of monitoring the in vivo activities by an external device. Since there is no universal anticancer agent, the computer program could match the type of cancer to the most appropriate agent. Such a device could be implanted as a prophylactic measure in people who do not show any obvious manifestations of cancer. It would circulate freely and could detect and treat cancer at the earliest stage. Such a device could be reprogrammed through removal control and enable a change of strategy if the lesion encountered is other than cancer [44].
Author's information
KKJ, a retired professor of neurosurgery, has been involved in biotechnology for several years with a focus on translation into clinical medicine and integration of technologies to develop personalized medicine. KKJ is the author of 425 publications, including 17 books and 49 special reports on biopharmaceutical topics, including nanobiotechnology. His publications include articles in several scientific journal as well as book chapters on nanobiotechnology and nanomedicine. A book on the role of nanobiotechnology in molecular diagnostics was published in 2006 and Handbook of Nanomedicine in 2008 by Humana/Springer Biosciences. Editorial board membership includes the journals Nanomedicine, Technology in Cancer Research & Treatment, and Journal of Nanoneuroscience. He is an invited lecturer on nanobiotechnology as well as a member of review/advisory panels for research grants by various government agencies in the United States (U.S. Army), Canada, the European Union, the Netherlands and Singapore.
Abbreviations
ELISA:

enzyme-linked immunosorbent assay
mAb:

monoclonal antibody
MRI:

magnetic resonance imaging
MS:

mass spectrometry
NIR:

near-infrared
PCR:

polymerase chain reaction
PDT:

photodynamic therapy
QD:

quantum dots
SPR:

surface plasma resonance
SWCNT:

single wall carbon nanotube.
Authors' Affiliations
(1)
Jain PharmaBiotech, Basel, Switzerland
Copyright
© Jain; licensee BioMed Central Ltd. 2010
This article is published under license to BioMed Central Ltd. This is an Open Access article distributed under the terms of the Creative Commons Attribution License (http://creativecommons.org/licenses/by/2.0), which permits unrestricted use, distribution, and reproduction in any medium, provided the original work is properly cited.