Minireview

Open Access

Open Peer Review
This article has Open Peer Review reports available.
Relevance of tumor-infiltrating lymphocytes in breast cancer
Received: 11 May 2015
Accepted: 22 July 2015
Published: 24 August 2015
Abstract
While breast cancer has not been considered a cancer amenable to immunotherapeutic approaches, recent studies have demonstrated evidence of significant immune cell infiltration via tumor-infiltrating lymphocytes in a subset of patient tumors. In this review we present the current evidence highlighting the clinical relevance and utility of tumor-infiltrating lymphocytes in breast cancer. Retrospective and prospective studies have shown that the presence of tumor-infiltrating lymphocytes is a prognostic marker for higher responses to neoadjuvant chemotherapy and better survival, particularly in triple negative and HER2-positive early breast cancer. Further work is required to determine the immune subsets important in this response and to discover ways of encouraging immune infiltrate in tumor-infiltrating lymphocytes-negative patients.
Keywords
Breast cancer
HER2
immunity
immunotherapy
NAC
neoadjuvant chemotherapy
TILs
TNBC
triple negative breast cancer
tumor-infiltrating lymphocytes
Introduction
In cancer, neoplastic transformation alters the structure of tissues and induces immune responses leading to the elimination of developing tumors. However, incomplete elimination of transformed cells results in escape from immune control. This process is known as cancer immunoediting and is supported by a large body of experimental data and clinical evidence showing that the intact immune system can prevent and control cancer through the generation of effective tumor-specific immune responses [1, 2]. Immunoediting describes the process of malignant progression on the basis of tumor and immune cell interactions in three phases: (1) elimination, where cancerous cells are eliminated following immunosurveillance; (2) equilibrium, where transformed cells are held in control but are not eliminated by the immune system; and (3) escape, where tumor cell modifications shape disease progression [1, 2]. In general, a patient will present once the tumor has 'evolved' to escape immunosurveillance and, accordingly, a subset of patients with breast cancer present clear evidence of immune suppression and aggressive disease progression, potentially driven by mechanisms of tumor tolerance [3, 4]. In the elimination phase, the innate and adaptive immune system coordinate to detect and destroy cancer cells before clinical presentation. At this stage the balance is towards antitumor immunity stimulated by natural killer (NK) cells, NK-T cells, T cells, and increased pro-immune factors in the tumor microenvironment [2]. In equilibrium, there is a balance between antitumor and tumor-promoting factors, thus maintaining the tumor in a functionally dormant state [2]. Well-documented escape mechanisms of breast cancer cells include decreased immune recognition through reduced expression of major histocompatibility complex class I (MHC I) and/or co-stimulatory molecules and increased expression of immunosuppressive factors. This results in reduced clearance (lysis) via CD8+ cytotoxic T lymphocytes (CTLs) [3, 4]. The mechanisms underlying these processes have previously been reviewed in detail in several papers [1, 2, 5–10].
Several studies have indicated that in addition to T cells, macrophages, NK cells, and dendritic cells (DCs) also infiltrate tumor tissue in varying capacities [
1
,
2
,
8
,
10
]. It is known that CD4
+
T helper 1 (Th1) cells, CD8
+
cytotoxic T cells, NK cells, M1 macrophages, and DCs are protective against tumor growth [
11
]. Conversely, CD4
+
forkhead box P3 (FOXP3
+
), CD4
+
Th2 cells, M2 macrophages, and myeloid-derived suppressor cells (MDSCs) promote tumor growth [
11
]. These subsets interact in numerous ways; some of these mechanisms of interaction are shown in Fig.
1
. Accordingly, tumor cells are able to suppress tumor-infiltrating lymphocytes (TILs) through multiple mechanisms either through direct suppression of antitumor immune cells or recruitment and reactivation of immunosuppressive subsets. One such mechanism is the expression of PD-L1 on tumor cells, which interacts with PD-1
+
CD8
+
T cells and induces subsequent anergy/apoptosis, leading to inactivation or exhaustion of TILs in the tumor microenvironment. This process leads to diminishing host antitumor immune responses [
12
]. Checkpoint inhibitors such as CTLA-4 and PD-1 trigger inhibitory pathways which dampen T-cell activity when bound to their ligands (CD80/CD86 and PD-L1/PD-L2) [
13
]. Both PD-1 and CTLA-4 blockade have proven to be very effective in preclinical animal models of melanoma and some breast cancer models [
14
–
17
]. Interestingly, an increasing number of studies are revealing positive outcomes in the clinical setting to checkpoint blockade of PD-1/PD-L1 and CTLA-4 [
18
–
20
]. Other targets that are of great interest in the clinical setting are the emerging T cell Ig and mucin domain (TIM) superfamily and lymphocyte activation gene 3 (LAG-3), given that they have both been associated with the inhibition of lymphocyte activity as well as induction of lymphocyte anergy [
11
,
12
]. Additionally, several other immunosuppressive factors and inhibitory metabolites, such as adenosine [
21
–
25
], FOXP3
+
regulatory T cells (Tregs) [
26
], indoleamine 2,3-dioxygenase (IDO) [
27
–
30
], arginase [
31
–
33
], and MDSCs [
34
–
36
], have been implicated in cancer-mediated immunosuppression, where targeting of these pathways has been shown to enhance antitumor immunity in vivo.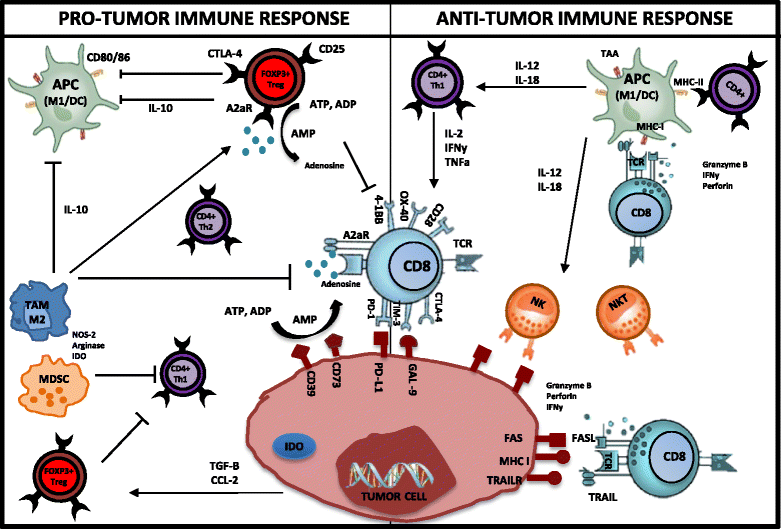 Conclusions
There is now overwhelming data on the prognostic and predictive association of TILs. Determination of TILs is potentially universally available to all patients with breast cancer and efforts are underway to ensure that determination of TILs is standardized and reproducible [124]. If successful, the scene will be set for TILs to enter clinical practice as a biomarker that has the potential for clinical utility and prognostic implications [41].
Because TILs are associated with improved survival endpoints in a continuous fashion, they may be integrated with exiting models of risk prediction that inform decisions about adjuvant treatment, such as tumor size and nodal status, and may also serve as a stratification factor in randomized clinical trials. This may be of particular use in trial designs using NAC. pCR in the primary tumor with NAC is a very strong predictor of freedom from recurrence and long-term survival [125]. Of note, even patients without a pCR still have a relatively good outcome if they have high TILs in the primary disease [64, 124]. A composite of pCR and TILs could foreseeably be used to select patients who do not need further therapy because their risk of recurrence is negligible (pCR and high TILs) or low (pCR but low TILs), or conversely to select those at high risk of recurrence (no pCR, low TILs) who would benefit from trials of novel interventions that may include immunotherapy. Furthermore, using TILs to identify patients at very low risk of recurrence affords the opportunity for trials looking at de-escalation of therapy to avoid unnecessary long-term toxicity or focusing on novel therapeutic combinations for the poor prognostic group.
Declarations
Acknowledgments
SL is supported by Cancer Council Victoria, Australia; the National Health and Medical Research Council (NHMRC) National Breast Cancer Foundation (NBCF) of Australia, and the Breast Cancer Research Foundation (BCRF), NY. PAB was supported by a National Breast Cancer Fellowship (ID# PF-14-008). PKD was supported by an NHMRC Senior Research Fellowship (1041828).
Open Access This article is distributed under the terms of the Creative Commons Attribution 4.0 International License (http://creativecommons.org/licenses/by/4.0/), which permits unrestricted use, distribution, and reproduction in any medium, provided you give appropriate credit to the original author(s) and the source, provide a link to the Creative Commons license, and indicate if changes were made. The Creative Commons Public Domain Dedication waiver (http://creativecommons.org/publicdomain/zero/1.0/) applies to the data made available in this article, unless otherwise stated.
Authors' Affiliations
(1)
Division of Research and Cancer Medicine, Peter MacCallum Cancer Centre, East Melbourne, Australia
(2)
Sir Peter MacCallum Department of Oncology, The University of Melbourne, Parkville, Australia
(3)
Peter MacCallum Cancer Centre, East Melbourne, Australia
Copyright
© Dushyanthen et al. 2015