Opinion

Open Access

Open Peer Review
This article has Open Peer Review reports available.
Mirror, mirror on the wall: which microbiomes will help heal them all?
Received: 28 January 2016
Accepted: 28 April 2016
Published: 4 May 2016
Abstract
Background
Clinicians have known for centuries that there is substantial variability between patients in their response to medications—some individuals exhibit a miraculous recovery while others fail to respond at all. Still others experience dangerous side effects. The hunt for the factors responsible for this variation has been aided by the ability to sequence the human genome, but this just provides part of the picture. Here, we discuss the emerging field of study focused on the human microbiome and how it may help to better predict drug response and improve the treatment of human disease.
Discussion
Various clinical disciplines characterize drug response using either continuous or categorical descriptors that are then correlated to environmental and genetic risk factors. However, these approaches typically ignore the microbiome, which can directly metabolize drugs into downstream metabolites with altered activity, clearance, and/or toxicity. Variations in the ability of each individual's microbiome to metabolize drugs may be an underappreciated source of differences in clinical response. Complementary studies in humans and animal models are necessary to elucidate the mechanisms responsible and to test the feasibility of identifying microbiome-based biomarkers of treatment outcomes.
Summary
We propose that the predictive power of genetic testing could be improved by taking a more comprehensive view of human genetics that encompasses our human and microbial genomes. Furthermore, unlike the human genome, the microbiome is rapidly altered by diet, pharmaceuticals, and other interventions, providing the potential to improve patient care by re-shaping our associated microbial communities.
Keywords
Gut microbiome
Pharmacology
Genetics
Precision medicine
Pharmaco-metagenomics
Background
The concept of "precision medicine" is a tantalizing possibility. Advances in sequencing the human genome led to the hypothesis that genetic differences may explain the incredible variation that clinicians observe when treating patients (Fig.
1a
) [
1
]. If successful, this area of study would answer long-standing scientific questions with immediate translational implications: why do some patients respond to a particular treatment whereas others experience no benefit whatsoever? Why do some patients incur life-threatening reactions to drugs whereas others barely experience any side effects? Is it possible to predict these differences prior to initiating treatment instead of relying on patient observations and careful monitoring? Are there really one-size-fits-all treatment regimens or does every drug (and drug combination) need to be optimized for a given patient?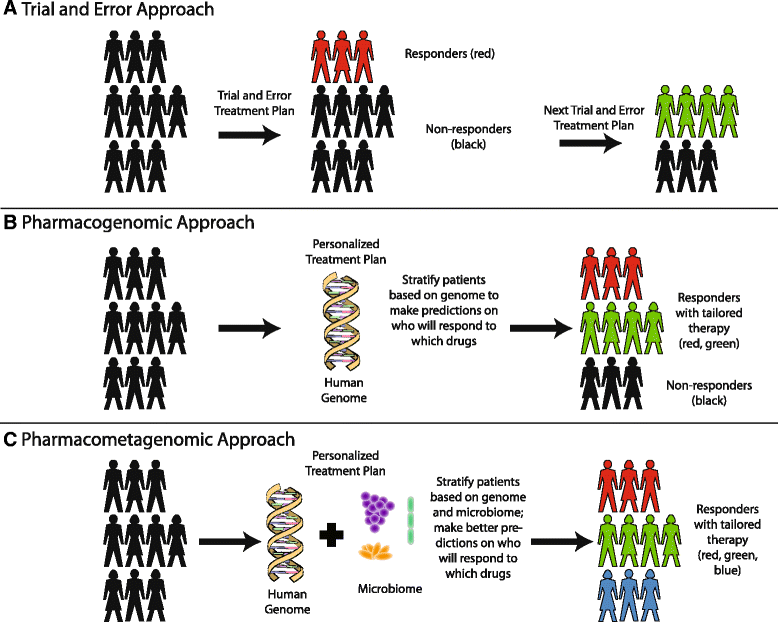 Multiple examples of the benefits of precision medicine are beginning to emerge (Fig. 1b). For example, several studies in HIV patients have suggested that routine testing for the HLA-B*5701 genotype prior to starting the anti-retroviral medication abacavir can lead to a reduction in severe hypersensitivity reactions to this drug [2]. Additionally, patients of Chinese and Thai descent undergo routine genetic testing for HLA-B*5801 prior to receiving allopurinol for gout, an inflammatory arthritis caused by urate crystals [3]. Patients with this locus exhibit severe skin, liver, and kidney reactions when given allopurinol, and thus these patients are instead treated with febuxostat.
Cancer therapeutics is another field where genetic testing has enabled tailored therapy. Patients with advanced cutaneous melanoma routinely have their tumors tested for the presence of a cancer-driving BRAF mutation, which is present in 40–60 % of patients [4]. Patients harboring the mutation are then successfully treated with vemurafenib or dabrafenib, which are inhibitors of BRAF [4].
Many other pharmacogenetic associations have been discovered, but are not routinely used clinically. In some cases, this is because there are limited studies demonstrating an improvement in care or because the genetic test is not cost effective [5]. This is true for drugs like warfarin and clopidogrel, which have been shown to be metabolized by the hepatic cytochrome P450 (CYP) enzymes CYP2C9 and CYP2C19, respectively [6]. While associations between these drugs and the CYP class of enzymes have been found, follow-up studies in patients have not convincingly shown that testing for these genes leads to better clinical outcomes [6].
Thus, for the vast majority of diseases, we are still far from tailoring the drug or dosage to a given patient's genome [7]. In clinical practice, there are over 3,500 drugs in the US formulary, but only 35 drugs (<1 %) can be dosed based on genetic information [8, 9]. This number will undoubtedly increase with more advanced pharmacogenomic research; however, the human genome is just part of the picture. The microbiome, which is the collection of microbes (and their genes) that live in and on our bodies, also plays a role. If we take a more comprehensive view of our genome that includes our microbiome, the genetic variants in our human cells only account for a small part of the genetic differences observed between patients. Current estimates suggest that the number of unique genes found in the human microbiome outnumbers the human genome by multiple orders of magnitude [10]. Furthermore, while only ~1 % of the nucleotides found in the human genome vary between individuals [11], the microbiome is highly individualized [12]. Even identical twins raised together may only share 50 % of their gut bacterial species [13], and each bacterial species exhibits substantial copy number variation between individuals [14]. In adults, current estimates suggest that the majority of gut bacterial species can stably colonize each individual for years [15]. Importantly, these microbes are not passive bystanders; their genomes encode gene families that extend human metabolism by enabling the degradation of otherwise indigestible plant polysaccharides [16], the synthesis of essential vitamins and amino acids [17], and the biotransformation of xenobiotics (foreign compounds including drugs and dietary bioactive compounds) [18]. In this commentary, we discuss some of the emerging evidence demonstrating an important role for the gut microbiome in determining treatment success, the underlying mechanisms responsible, and the need for translational research strategies to begin to integrate these findings into clinical practice.
Summary
In conclusion, a deeper understanding of the human microbiome could lead to improvements in distinguishing responders versus non-responders, allowing physicians to provide precise, tailored treatment recommendations for their patients. Additional research is warranted to uncover the mechanisms through which gut microbes can contribute to a patient's treatment success. Changes in the microbiome in response to therapy should be more broadly assessed in patient populations, perhaps through routine sampling of stool when conducting randomized controlled trials. Improved model systems, such as humanized mice, will be necessary to distinguish causal from casual associations and to develop more sophisticated approaches to analyzing and interpreting the human microbiome. If successful, these studies may soon begin to unlock the potential of the microbiome in serving as a predictive and therapeutic tool in clinical medicine.
Abbreviations
5-FU:

5-fluorouracil
CDAI:

clinical disease activity index
CYP:

hepatic cytochrome P450
DPD:

dihydropyrimidine dehydrogenase, PPI, proton-pump inhibitor
SNP:

single nucleotide polymorphism
TPMT:

thiopurine methyltransferase
Declarations
Acknowledgements
Thanks to Elizabeth Bess, Rachel Carmody, Mary Nakamura, Peter Spanogiannopoulos, and Art Weiss for their thoughtful comments. This work was supported by the National Institutes of Health (PJT, R01HL122593; RN, 5T32AR007304-37), the Young Investigator Grant for Probiotics Research, the G.W. Hooper Foundation, and the UCSF Department of Microbiology and Immunology. PJT is a Nadia's Gift Foundation Innovator supported, in part, by the Damon Runyon Cancer Research Foundation (DRR-42-16), the UCSF Program for Breakthrough Biomedical Research (partially funded by the Sandler Foundation), and the Searle Scholars Program.
Open AccessThis article is distributed under the terms of the Creative Commons Attribution 4.0 International License (http://creativecommons.org/licenses/by/4.0/), which permits unrestricted use, distribution, and reproduction in any medium, provided you give appropriate credit to the original author(s) and the source, provide a link to the Creative Commons license, and indicate if changes were made. The Creative Commons Public Domain Dedication waiver (http://creativecommons.org/publicdomain/zero/1.0/) applies to the data made available in this article, unless otherwise stated.
Authors' Affiliations
(1)
Department of Microbiology and Immunology, G.W. Hooper Foundation, University of California San Francisco, San Francisco, USA
Copyright
© Nayak and Turnbaugh. 2016