Minireview

Open Access

Open Peer Review
This article has Open Peer Review reports available.
Epilepsy care guidelines for low- and middle- income countries: From WHO mental health GAP to national programs
Received: 10 July 2012
Accepted: 24 September 2012
Published: 24 September 2012
Abstract
In 2011, the World Health Organization's (WHO) mental health Gap Action Programme (mhGAP) released evidence-based epilepsy-care guidelines for use in low and middle income countries (LAMICs). From a geographical, sociocultural, and political perspective, LAMICs represent a heterogenous group with significant differences in the epidemiology, etiology, and perceptions of epilepsy. Successful implementation of the guidelines requires local adaptation for use within individual countries. For effective implementation and sustainability, the sense of ownership and empowerment must be transferred from the global health authorities to the local people. Sociocultural and financial barriers that impede the implementation of the guidelines should be identified and ameliorated. Impact assessment and program revisions should be planned and a budget allocated to them. If effectively implemented, as intended, at the primary-care level, the mhGAP guidelines have the potential to facilitate a substantial reduction in the epilepsy treatment gap and improve the quality of epilepsy care in resource-limited settings.
Keywords
Non-physician healthcare workerclinical officervariations in caretreatment gap
Conclusion
The mhGAP guidelines need to be adapted for country-specific use in LAMICs. These baseline recommendations can facilitate the development of national guidelines and the establishment of national epilepsy programs tailored to the existing healthcare setting. The locally relevant guidelines should then be critically evaluated and amended if necessary, based on the results of the assessment (Figure
1
). Evaluations are needed to ensure that the guidelines are practical, evidence-based. and cost-effective [
32
,
33
]. Training resources (including sample pathways and video training) adapted for local primary-care settings should be expanded to facilitate the acceptance and successful implementation of the guidelines [
9
]. The implementation of epilepsy guidelines could result in a decrease in the burden of epilepsy worldwide [
16
].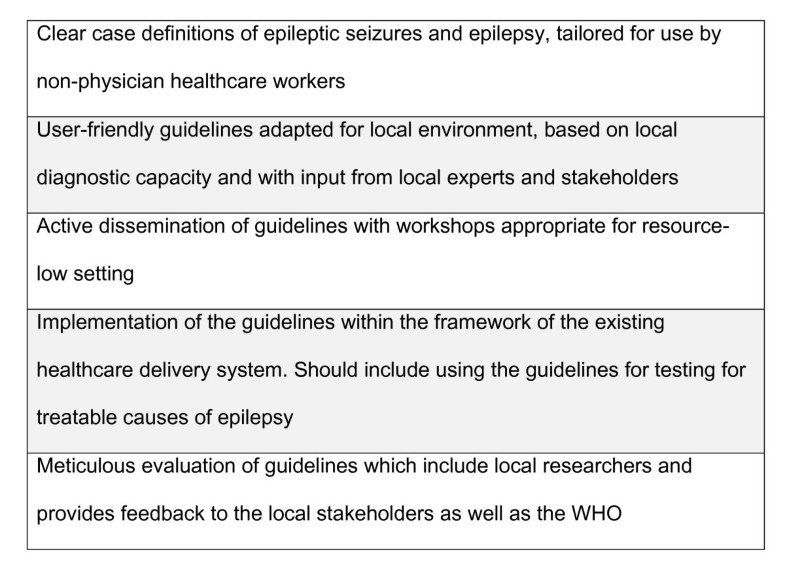 Authors' Information
GLB and JK are neurologists who trained in academic centers in the developed world, but they have extensive experience providing epilepsy care in tropical, resource-limited settings.
Abbreviations
AED:

antiepileptic drug
CNS:

central nervous system
LAMIC:

low- and middle- income countries
mhGAP:

mental health Gap Action Programme
PWE:

people with epilepsy
WHO:

World Health Organization.
Authors' Affiliations
(1)
Department of Infectious Diseases and Gastroenterology, Auguste-Viktoria-Krankenhaus, Berlin, Germany
(2)
Queen Elizabeth Central Hospital, Blantyre, Malawi
(3)
Michigan State University, International Neurologic and Psychiatric Epidemiology Program, Michigan, USA
(4)
Chikankata Hospital, Epilepsy Care Team, Mazabuka, Zambia
Copyright
© Katchanov and Birbeck; licensee BioMed Central Ltd. 2012
This article is published under license to BioMed Central Ltd. This is an Open Access article distributed under the terms of the Creative Commons Attribution License (http://creativecommons.org/licenses/by/2.0), which permits unrestricted use, distribution, and reproduction in any medium, provided the original work is properly cited.