Opinion

Open Access

Open Peer Review
This article has Open Peer Review reports available.
Preclinical Alzheimer disease: identification of cases at risk among cognitively intact older individuals
Received: 31 July 2012
Accepted: 25 October 2012
Published: 25 October 2012
Abstract
Since the first description of the case of Auguste Deter, presented in Tübingen in 1906 by Alois Alzheimer, there has been an exponential increase in our knowledge of the neuropathological, cellular, and molecular foundation of Alzheimer's disease (AD). The concept of AD pathogenesis has evolved from a static, binary view discriminating cognitive normality from dementia, towards a dynamic view that considers AD pathology as a long-lasting morbid process that takes place progressively over years, or even decades, before the first symptoms become apparent, and thus operating in a continuum between the two aforementioned extreme states. Several biomarkers have been proposed to predict AD-related cognitive decline, initially in cases with mild cognitive impairment, and more recently in cognitively intact individuals. These early markers define at-risk individuals thought to be in the preclinical phase of AD. However, the clinical relevance of this preclinical phase remains controversial. The fate of such individuals, who are cognitively intact, but positive for some early AD biomarkers, is currently uncertain at best. In this report, we advocate the point of view that although most of these preclinical cases will evolve to clinically overt AD, some appear to have efficient compensatory mechanisms and virtually never develop dementia. We critically review the currently available early AD markers, discuss their clinical relevance, and propose a novel classification of preclinical AD, designating these non-progressing cases as 'stable asymptomatic cerebral amyloidosis'.
Keywords
Alzheimer disease
asymptomatic
cerebral amyloidosis
cognition
compensatory phenomena
dementia
Introduction
In 1906, Alois Alzheimer documented the case of Auguste Deter, a patient with a combination of cognitive deficits, psychiatric symptoms, and macroscopic and microscopic brain lesions [1, 2]. This histopathological and clinical constellation was first designated by Emil Kraepelin as Alzheimer's disease (AD), and later on as dementia of the Alzheimer-type (AD-type dementia). Since this first definition, an impressively broad spectrum of mechanisms have emerged, including genetic vulnerability, and the molecular, cellular, and neurochemical abnormalities closely related to AD pathogenesis [3–5]. Some examples illustrate the diversity of the field and the difficulty in formulating and following up a unique causal hypothesis for such a heterogeneous disorder. Initially, abnormal protein filaments were described structurally in amyloid plaques (APs) and neurofibrillary tangles (NFTs) [6, 7], and more than 200 large clinicopathological studies in hospital-based and community-based series have shown the differential effects of fibrillar amyloid deposits and NFT formation on cognitive performances across the age spectrum [8–11]. Following the pioneering observations of Tomlinson and coworkers, which indicated the presence of substantial AD lesion densities in cognitively intact older people [12], the systematic work of Braak and collaborators showed the stepwise progression of amyloid deposits and NFTs in brain aging and AD [13, 14]. Amyloidogenic fragments (monomers, dimers, oligomers) were soon purified from AD-affected brains, and tau protein was identified as the main constituent of NFT [15–17]. Yankner and coworkers then identified the neurotoxic properties of the amyloid beta (Aβ) protein [18]. In the 1970s, the cholinergic hypothesis of AD emerged and growing interest was raised with the identification of the first therapeutic targets for drug development [19–21]. In the early 1980s, medial temporal lobe subdivisions became the focus of interest, following the detailed description of atrophy patterns in association with progressive memory loss in mild and prodromal forms of AD [22–25]. In the early 1990s, the first genes conferring a risk for early-onset (amyloid beta (A4) precursor protein (APP) and presenilin (PSEN)1 and 2) and late-onset (apoliprotein (APO)ε4) AD were identified [26–29]. Recently, these discoveries have been followed by identification of polymorphisms in other genes, probably involved in Aβ processing and clearance. Large genome-wide studies have identified associations between late-onset AD and polymorphisms in the genes clusterin, CR1 (complement receptor 1), SORCS1 (sortilin-related VPS10 domain containing receptor 1) and PICALM (phosphatidylinositol binding clathrin assembly protein) [30–32], observations that were subsequently confirmed by other groups in diverse ethnic cohorts [33–40]. Stemming from these milestones in the understanding of AD pathology, the past decade saw the development of animal models and clinical trials with immunization-based therapeutic strategies [41–49]. Despite these efforts, numerous crucial questions remain unanswered. Why are only some brain regions and neuronal types preferentially affected? Why, despite the presence of Aβ deposits, do some individuals not present clinically overt dementia? Is there any natural compensatory mechanism(s) that might counterbalance the toxic effect of Aβ? Is AD an age- or aging-related pathology?
The major recent conceptual evolution has been the conversion from a 'static and defensive' view of AD pathogenesis to one that is 'dynamic and compensatory'. According to the first model, AD lesions chronically attack the human brain, leading to synaptic and neuron loss before cognitive breakdown. Whether and when this occurs depends mainly on the severity of the external aggression and on the structural reserve [50–52]. The second model suggests that the clinical expression of the disease may vary widely over time, depending on individual vulnerability to the initial phases of the degenerative process, the severity of the AD pathological process at the molecular and cellular levels, and the efficiency and evolution over time of compensatory brain mechanisms.
According to this dynamic model, future curative treatments should be administrated long before the emergence of clinically overt symptoms, either to counterbalance the biological compromise that precedes the cognitive breakdown or to promote functional compensation [53]. The limited therapeutic efficacy of the first vaccination trials in moderate AD may have reflected the irreversible brain damage that had already taken place in these cases. This is also supported by some data from animal models, which showed that the efficacy of β-amyloid1-42 (Aβ42) immunization was largely reduced in mice with significant amyloid deposition [54]. In line with these findings, clinical trials using acetylcholinesterase inhibitors in patients with mild cognitive impairment (MCI) all failed to show any clear benefit [55, 56]. In fact, more recent evidence has shown that all of the major pathophysiological processes associated with AD have already occurred by the time MCI is diangosed, introducing the notion that patients with clinically early AD may display substantial biological deficits [57–62]. Consquently, in order to set up true secondary prevention in AD, it is crucial to identify cognitively intact individuals at risk for AD, working on the assumption that some objectively measurable AD markers exist that precede clinical symptoms by several years and define a stable 'pre-AD' stage.
Conclusions
Preclinical AD markers may represent a double-edged sword. On the one hand, they make it possible to define a group at risk for AD-type dementia (in terms of disease prevalence), but on the other hand, this group may comprise an increased proportion of 'resistant' individuals, who do not develop dementia despite substantial brain cerebral amyloidosis. Within the preclinical AD spectrum, the firstgroup includes presymptomatic individuals who are positive for at least one amyloid marker (for example,, PiB-PET, low Aβ42 CSF levels) and correspond to stages 1, 2 or 3 as defined by the recommendations from the National Institute on Aging and Alzheimer's Association workgroups [
167
]. Virtually all of these subjects will convert to MCI or AD-type dementia within 8 to 10 years. A second group includes individuals with stable asymptomatic cerebral amyloidosis, who will remain cognitively stable indefinitely, even though they have positive amyloid marker(s) and would fall into the stage 1 (or even stage 2) of preclinical AD (Figure
2
). Defining distinct biomarkers for these stable cases would enable more reliable predictions of clinical evolution at the individual level. Moreover, comparative analysis of these two groups could allow better insight into the nature of compensatory mechanisms and into the reasons for their failure, which marks the beginning of AD-type dementia.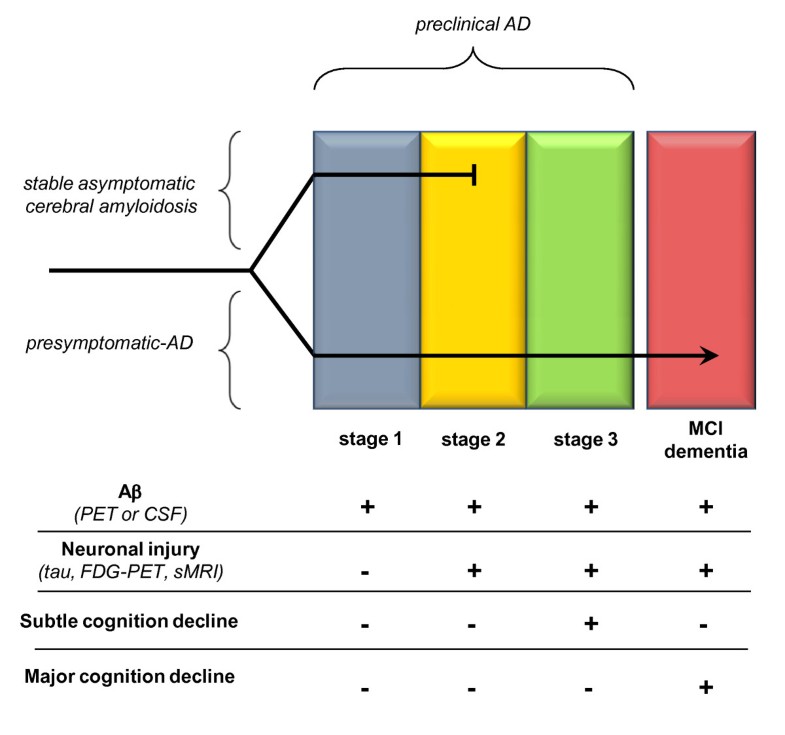 Authors' Affiliations
(1)
Department of Mental Health and Psychiatry, University Hospitals of Geneva and Faculty of Medicine of the University of Geneva, Geneva, Switzerland
(2)
Fishberg Department of Neuroscience and, Friedman Brain Institute, Mount Sinai School of Medicine, New York, USA
Copyright
© Lazarczyk et al; licensee BioMed Central Ltd. 2012
This article is published under license to BioMed Central Ltd. This is an Open Access article distributed under the terms of the Creative Commons Attribution License (http://creativecommons.org/licenses/by/2.0), which permits unrestricted use, distribution, and reproduction in any medium, provided the original work is properly cited.