Review

Open Access

Open Peer Review
This article has Open Peer Review reports available.
Managing hyperemesis gravidarum: a multimodal challenge
Received: 10 February 2010
Accepted: 15 July 2010
Published: 15 July 2010
Abstract
Up to 90% of pregnant women experience nausea and vomiting. When prolonged or severe, this is known as hyperemesis gravidarum (HG), which can, in individual cases, be life threatening. In this article the aetiology, diagnosis and treatment strategies will be presented based on a selective literature review. Treatment strategies range from outpatient dietary advice and antiemetic drugs to hospitalization and intravenous (IV) fluid replacement in persistent or severe cases. Alternative methods, such as acupuncture, are not yet evidence based but sometimes have a therapeutic effect.
In most cases, the condition is self limiting and subsides by around 20 weeks gestation. More severe forms require medical intervention once other organic causes of nausea and vomiting have been excluded. In addition, a psychosomatic approach is often helpful.
In view of its potential complexity, general practitioners and obstetricians should be well informed about HG and therapy should be multimodal.
Keywords
Pregnant Woman
Anorexia Nervosa
Thyroid Stimulate Hormone
Human Chorionic Gonadotrophin
Hyperemesis Gravidarum
Introduction
About 50% - 90% of all pregnancies are accompanied by nausea and vomiting [1]. According to a study of more than 360 pregnant women, only 2% experienced only nausea in the morning whereas, in 80%, complaints persisted throughout the day. The condition is usually self-limiting and peaks at around 9 weeks gestation. At 20 weeks symptoms typically cease. However, in up to 20% of cases, nausea and vomiting may continue until delivery [1].
This condition is known as nausea and vomiting during pregnancy (NVP) or emesis gravidarum and is of no pathological significance as long as the affected women do not feel unwell or restricted in their daily life [2]. There are, however, different grades in the scope of NVP, which range from occasional morning-sickness to excessive vomiting that persists throughout the day. The most severe grade of NVP often leads to hyperemesis gravidarum (HG; see below), but it can be difficult to differentiate between the two conditions.
A prospective study of more than 9000 pregnant women showed that NVP occurred significantly more often in primigravidas and in women who were less educated, younger, non-smokers and overweight or obese. The incidence of NVP was also higher in women with a history of nausea and vomiting in a previous pregnancy [3].
In order to exclude differential diagnoses the following crucial parameters should be investigated: Onset of nausea and vomiting (nearly all of the cases begin before 9 weeks of gestation), attendant symptoms, underlying chronic disorders or, in rare cases, hereditary diseases (see Figures
1
and
2
) [
4
].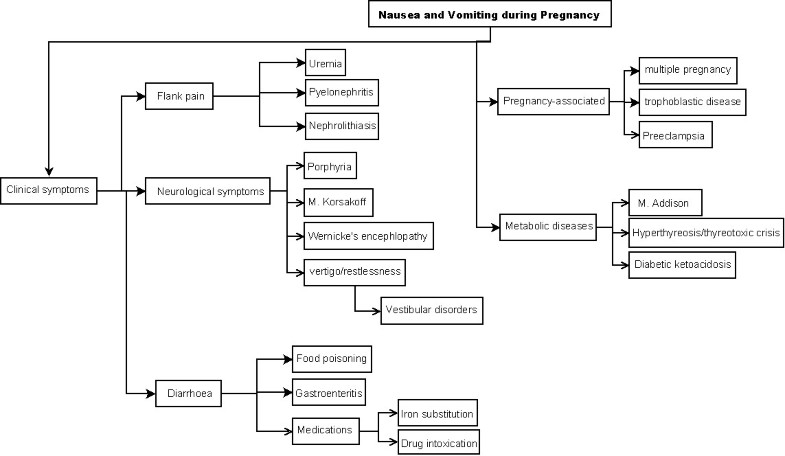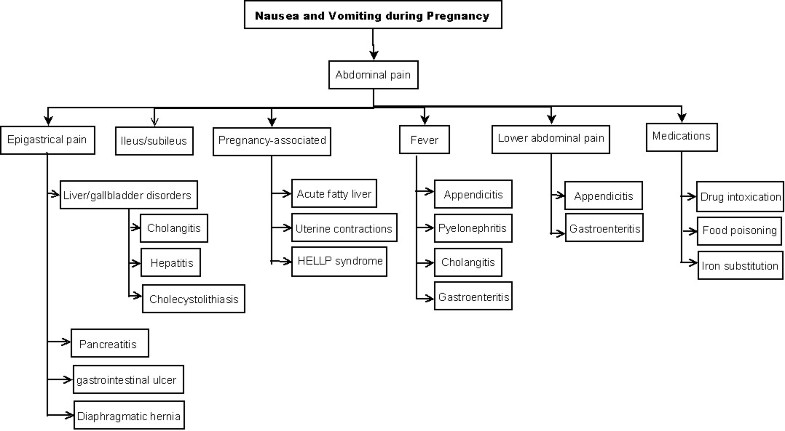 A small percentage of pregnant women experience a severe form of nausea and vomiting that is termed HG (synonym: excessive vomiting during pregnancy). This disorder has an estimated incidence of 0.5% - 2% of all live births [5]. A standard definition of HG is the occurrence of more than three episodes of vomiting per day with ketonuria and more than 3 kg or 5% weight loss. However, the diagnosis is usually made clinically following the exclusion of other causes [6, 7].
HG can, in individual cases, be life threatening and treatment must be initiated immediately. Clinical findings include dehydration, acidosis due to inadequate nutrition, alkalosis due to loss of hydrochloride and hypokalaemia. There are two degrees of severity: (i) grade 1, nausea and vomiting without metabolic imbalance; and (ii) grade 2, pronounced feelings of sickness with metabolic imbalance [2].
In this article the aetiology, diagnosis, clinical presentation and treatment options will be outlined on the basis of a selective literature review.
Aetiology
The aetiology of NVP and hyperemesis in pregnancy is unknown, although some biological, physiological and psychological as well as sociocultural factors are thought to be contributory factors [8]. According to another theory, nausea and vomiting during pregnancy might be an evolutionary adaptation that prevents the intake of potentially noxious food. Such harmful substances may be pathogenic microorganisms in meat and toxins in strong-tasting vegetables and beverages. Thus, by avoiding the ingestion of those toxic components, it is supposed that the embryo is protected from miscarriage. Interviews on more than 5400 pregnant women obtained from 20 studies of gestational aversions, as well as enquiries on more than 6200 pregnant women obtained from 21 studies of gestational cravings, show that most women during pregnancy prefer food categories that are less likely to contain toxic substances [9]. However, severe forms of NVP (such as HG) always require medical intervention.
Risk factors for HG include multiple pregnancy, nulliparity, obesity, metabolic disturbances, a history of HG in a previous pregnancy, trophoblastic disorders, psychological disorders (for example, eating disorders such as anorexia nervosa or bulimia) and a history of migration [10–12].
Medical history and clinical presentation
Clinical symptoms are usually non-specific and it is important to exclude the more unusual causes of nausea and vomiting. These include peptic ulceration, hepatitis, pancreatitis, thyroid disease, gastrointestinal obstruction and adrenocortical insufficiency (see Table
1
) [
13
]. An onset of symptoms after 10 weeks gestation is atypical for NVP and systematic exclusion of the diseases mentioned above is particularly important in such cases.
Table 1
Diseases associated with nausea and vomiting during pregnancy (alphabetical order), adapted from reference [2].
| Causes | Differential diagnosis |
| --- | --- |
| Gastrointestinal causes | Appendicitis |
| | Diaphragmatic hernia |
| | Gastroenteritis |
| | Hepatic or cholecystic disorders |
| | Hepatitis |
| | Ileus and subileus |
| | Pancreatitis |
| | Stomach cancer |
| | Stomach ulcer or duodenal ulcer |
| Metabolic causes | Addison's disease |
| | Diabetic ketoacidosis |
| | Hyperthyroidism |
| | Porphyria |
| | Thyrotoxicosis |
| Neurological causes | Korsakoff's psychosis |
| | Migraine |
| | Vestibular disorders |
| | Wernicke's encephalopathy |
| Pregnancy associated | Acute fatty liver |
| | Emesis gravidarum (<5 ×/day) |
| | Hyperemesis gravidarum (>5 ×/day) |
| | Multiple pregancy |
| | Pre-eclampsia |
| | Premature contractions |
| Urogenital causes | Degenerative uterine fibroids |
| | Nephrolithiasis |
| | Pyelonephritis |
| | Uremia |
| Other causes | Drug poisoning |
| | Food poisoning |
| | Iron medication |
NVP usually has very few attendant symptoms other than fatigue, exhaustion and indisposition. Pyrexia, gastric pain, headache or neurologic signs point to other causes, although the latter finding may, in rare cases, result from severe and prolonged NVP (for example, Wernicke's encephalopathy or central pontine myelinolysis). In the case of elevated thyroid hormones, it is important to distinguish between THHG and primary thyroid disease. Furthermore, chronic underlying conditions that may have been exacerbated or unmasked by the pregnancy should be excluded [5].
Metabolic ketoacidosis and ketonaemia (acetone-like breath) may also occur with occasional pyrexia and hepatic symptoms (for example, jaundice). In some cases, drowsiness and intellectual slowness are present and this may lead to delirium. Laboratory investigations should include haematocrit, electrolytes, transaminases, bilirubin and thyroid function tests as well as urinary status (presence or absence of ketone bodies, specific weight, pH). In addition, ultrasonography should be performed in order to exclude multiple pregnancy, trophoblastic disorders and neoplasias. If a psychic component of the disorder is suspected, ultrasound scans should not be repeated too often as this may aggravate psychosomatic symptoms [49].
In order to diagnose underlying psychological factors, a psychosomatic dialogue aiming at the formation of a working alliance between patient and physician is essential [50]. This often reveals a stressful and intolerable situation in the patient's social environment that she is unable to escape from or avoid. This psychosocial distress is then converted into a somatic symptom [51]. In the case of persistent vomiting or conspicuous symptoms the psychological differential diagnosis should include deep and defended psychic conflicts [2].
Treatment strategies
Treatment strategies for HG should be based on the severity of symptoms and multimodal in nature (advice, hydration, medication, hospitalization and psychosomatic counselling when necessary; see Figure
3
). The severity of the condition can be assessed by numerous questionnaires. Two of the most widely used questionnaires are the Pregnancy-Unique Quantification of Emesis and Nausea (PUQE) scoring index, which assesses nausea and vomiting over 12 h, and the PUQE-24, an extension of the original PUQE, which assesses symptoms over 24 h [
52
,
53
]. Another recently developed score is the Hyperemesis Impact of Symptoms Questionnaire (HIS) that brings into focus not only physical but also psychosocial factors in order to assess the impact of HG holistically [
54
].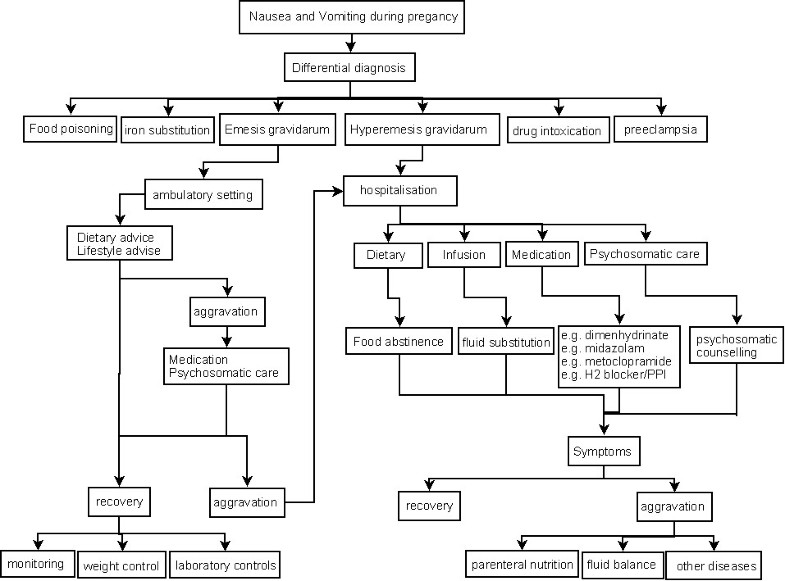 Pregnancy outcome and prognosis
In most cases, nausea and vomiting during pregnancy is self limiting and is usually resolved by around 20 weeks gestation [13]. Interestingly, it is consistently associated with lower rates of miscarriage, retarded intrauterine growth and preterm delivery and fetal outcomes are, in most cases, excellent [11, 88–90].
Other causes of severe distress in these patients include loss of time from work and a reduced quality of life [1]. An investigation of 147 patients evaluated the impact of NVP on family, social and occupational functioning as well as quality of life. It found that 82.8% of patients were limited in their usual daily activities, not only by the presence of constant nausea and frequent vomiting, but also by the psychological burden of not feeling well for several weeks or months [91]. Another stressful aspect of the disorder is the change of the patient's role within her social or occupational environment: Many women feel helpless and incapable and misunderstood by their relatives. Family problems range from neglect of the household to negative alterations in the relationship between the pregnant woman and her spouse. Social functioning is often affected, with a reduction in social commitments, partly due to feelings of embarrassment. Most patients with severe NVP or HG miss at least a few weeks of their paid employment and report that they are less attentive to their work [91].
NVP and HG may cause considerable direct (for example, medication) and indirect (for example, loss of productivity) costs, which can amount to hundreds of dollars. These costs apply not only to the patients, but also to society and the health care system [92]. More serious medical complications include the Mallory-Weiss syndrome (acute increase in oesophageal pressure due to vomiting) and oesophageal rupture (due to severe vomiting), pneumothorax, peripheral neuropathy, coagulopathy, Wernicke's encephalopathy (due to lack of thiamine), pre-eclampsia and fetal growth retardation [11, 13, 93–95].
The psychosomatic aspects of hyperemesis should also be considered. Interestingly, psychosocial morbidity for the mother often presents in the form of secondary depression, which affects up to 7% of patients with HG [10, 96]. Therefore, adequate assessment, observation, and treatment of a possible psychosomatic disorder should also be considered.
Conclusions
Since the causal factors of HG are multifarious, treatment of this condition should be multimodal, ranging from dietary and lifestyle advice to psychosomatic counselling or psychoanalytic therapy. Administration of antiemetic drugs may be necessary, as well as IV fluid replacement, food administration via nasogastric or parenteral routes in severe cases. Since this condition is accompanied by a significant reduction in quality of life for the patient and high costs to the healthcare system, general practitioners and obstetricians should ensure that they are well informed about this condition [97] so that they are able to provide advice, counselling and effective medication to pregnant women and thus prevent the exacerbation of symptoms.
Abbreviations
ACTH:

adrenocorticotropic hormone
HCG:

human chorionic gonadotrophin
HG:

hyperemesis gravidarum
IV:

intravenous
MMPI:

Minnesota Multiphasic Personality Inventory
NVP:

nausea and vomiting during pregnancy
PICC:

peripherally inserted central catheter
PUQE:

Pregnancy-Unique Quantification of Emesis and Nausea
THHG:

hyperthyroidism of HG
TPN:

total parenteral nutrition
TSH:

thyroid stimulating hormone.
Declarations
Acknowledgements
The authors would like to thank Cornelia Lundell for her very helpful revision of the orthographic aspects of the manuscript.
Authors' Affiliations
(1)
First Department of Obstetrics and Gynaecology, Campus Innenstadt, Ludwig-Maximilians-University, Munich, Germany
Copyright
© Jueckstock et al; licensee BioMed Central Ltd. 2010
This article is published under license to BioMed Central Ltd. This is an Open Access article distributed under the terms of the Creative Commons Attribution License (http://creativecommons.org/licenses/by/2.0), which permits unrestricted use, distribution, and reproduction in any medium, provided the original work is properly cited.